Friends,
A vast cloud river in the heavens swelled and seemed to break out of the confines of its usual monsoonal flood paths through the tropical burning blue skies across the northern edges of Australia as 2011 dawned. A 500-year drought in Australia's outback at once transformed by sustained tropical downpours morphed into a 100-year "big wet" turning the sunburned Australian interior into a red and muddy sea. A wall of water literally arose like a tsunami fanning out through wide and once desiccated floodplains, carrying off farms, ranches and towns.
Brisbane in Queensland, along the Coral Sea, Australia's third largest metropolis, was in the path of the car and house choked deluge. Brisbane, a town I had visited 17 published books ago in the late 1980s when on an Australian national book tour for my first best selling tome on Nostradamus. Landing at the international airport surrounded by subtropical bird sanctuaries, the surroundings had much of the same flora, fauna, mangroves and tropical smells of Mumbai, India, though free of the pollution, the crowds and general and squalid filth of South Asia. Coming to Queensland was a nice break from spending much of the 1980s off and on in India, living in an overcrowded, developing subtropical nation straining its lovely ecosystem.
Many houses in the suburbs of Brisbane were built on stilts. I was told by the cabbie taking me to my four-star hotel downtown, that stilted houses kept all the poisonous snakes from climbing in. Whether this was half true or half Aussie larrikin blarney, I am thinking the stilts performed two services, snake and flood infestation. As it turned out, the floods of early 2011 swelled through the low-lying western and eastern suburbs into thousands of homes. The irony is, the stilts may have prevented the deadly water and brown snakes from climbing in on drier days but caused greater "anguis" when rising waters made human habitations herpetological havens for waterlogged and hissing little "asps".
My hotel, as I recall, was situated downtown on Elizabeth Street. I had enjoyed walking north to one of the three tight bends of the Brisbane River snaking through central Brisbane. From what I could see from aerial shots during the flood, my boulevard looked like it was under water. It made me wonder what happened to the descendants of that shark I enjoyed swimming in his hexagonal tank in the middle of the shoe and sports store wherein I finally found a digger's bush had that could fit my huge head. (They apparently have big heads in Queensland.)
Probably the shark's filles and fils are fine as aerial photos of the flood indicate Elizabeth Street 23-years after my visit was more high-rise dotted, high and dry. The water on the boulevard must have been a sheet of floodwater caused by heavy and relentless rain rather than upwelling beyond the floods of riverfront property letting slip marina's full of pleasure boats downriver.
The weather satellites mapping the monsoon over northern Australia in the first half of January 2011 showed a huge tongue of cloud plunge down through the Queenslander and New South Welsh quadrants of the Great Australian Outback all the way south into the temperate states of Victoria and South Australia. While Brisbane and other Queensland towns began to dig upwards of 30,000 homes and properties out of rancid mud and find the bodies of a dozen victims still missing — whilst burying into soggy earth another 20 who had confirmed drowned — Victoria endured its worst floods since 1933.Walls of water, kilometers wide, rolled across the northeast corner of the state inundating 62 towns. The State of South Australia was also pummeled with some of the reservoirs filled to bursting in the hills outside of the city of Adelaide, yet they held.
The impact of a monsoonal raid of rains reached far into the temperate south all the way to the island state of Tasmania. For all of you readers hailing from the Northern Hemisphere, that would be like a surge of monsoon storms out of Central America reaching all the way to Seattle, Washington, across into British Columbia.
It is estimated that damage caused to homes and infrastructure in the Australian flood disaster, especially across Queensland and Victoria, could cost as much as $30 billion.
This tropical and subtropical assault of sky rivers is not just an isolated Australian incident. While in the aftermath of the Brisbane floods, 200 police, many in boats, patrolled the inundated streets of for looters, over in Brazil, 700 people were buried alive in landslides from a juggernaut of torrential rains drenching the hill towns around Rio de Janeiro, leaving 14,000 homeless. Farther south in temperate climes of Brazil, near Santo Andres, a suburb of sprawling Sao Paulo, people clutched and hung onto their car hoods as life preservers for helicopters to pluck from the torrent. The Tamanduatei River running through Sao Paolo broke out of its banks.
Cross the Southern Atlantic from South America to South Africa and neighboring Mozambique and you would hear and see rains washing away thousands of homes and roads. South Africa's Co-operative Governance Ministry reported 40 people drowned or missing in the flooding with seven out of the country's nine provinces declared disaster areas.
State-run Radio Mozambique reported on Monday (17 January 2011) that 13 000 people had seen displaced from their homes by torrential rains and heavy wind damage with at lest 10 killed.
The cleanup in Australia has begun, but the people there look at more threatening skies darkened by storms. As I write this blog on 19 January 2011, the Australian Broadcast Company (ABC) reports are coming in from Brisbane of severe thunderstorms battering flood-stricken southeastern Queensland for two nights in a row, knocking power out for over 30,000 households stretching from Lockyer and Brisbane Valleys to Ipswich, the Gold Coast and Brisbane. Microbursts of wind clocking as high as 62 mph were recorded near Ipswich.
The tropical and subtropical rainy season is still young.
UPI.com reports, Queensland Premier Anna Bligh saying her state will remain on alert for more extreme weather in coming months.
"We took the unprecedented step of actually inviting the weather bureau to come and formally present to the Cabinet," Bligh said.
***
Brett, one of my dedicated readers wrote back on Monday, "John, it looks like your 2011 Prophecies will all be fulfilled in the first two weeks of 2011!"
Brett is speaking about what I wrote in Predictions for 2011, in a chapter entitled "Alarm Bells Sound the Unsustainable". Some of you might have read it already or heard me recently elaborate on Coast to Coast AM on 13 January about a dire set of weather predictions for the new year.
On Coast to Coast I recall saying, "I am usually not an alarmist."
George Noory the host replied, "You call it as it is, John."
I added, that though I often talk about scary things happening when dire prophecy and dire current events meet, I try to find a measured and balanced way of matching scary developments in the future with their rational solutions possible and empowered in the present. I try as much as I can to give you on Coast, or in books or in these blogs, a balanced view, a choice implied as to how you can do your individually small and collectively large parts in directing destiny down a more positive, life affirming future path by changing your actions in the present.
However, on Coast to Coast I was clearly sounding an alarm.
I am genuinely alarmed at what I see coming in 2011, weather-wise.
I spoke about my first documented prophecies from 2009 presaging Mother Nature sending us a message in 2010 with a global temperature rise was a part of a temperature tsunami making 2010 the hottest year on record.
It happened.
Then on Coast to Coast AM on 13 January and in Predictions for 2011 written and documented on 21 December 2010, I warned that the human race has not heard the message of natural disasters and rising temperatures of 2010. Indeed, less people believe there is global warming now than in 2009.
Nature will respond.
She will raise the violence of climate change, quakes and storms by 50 percent in 2011.
What Brett is talking about is the sudden and extreme amplification of just that intensification happening already since the new year began, just a short three weeks ago.
These floods described above and a spate of seven magnitude and higher quakes across of the world and the sudden and dramatic eruption of Mt. Etna in Sicily are only the beginning of what will be remembered as the year of the great flooding storms.
The storms befall the planet just as Neptune prepares to enter its home sign of Pisces in April 2011 where it will stay for decades. Because 2011 astrologically marks initial passage through Neptune (the Sea God's) first and most intense degrees of its transit, I predict the Southern Hemisphere's 2011 Monsoon Season like the northern hemispheric season to come, will be the most flood-prone and violent ever recorded in modern times.
We are not listening. The volume, therefore, roaring in flood waters, the shrieking of storm winds and the thundering tidal surges of cyclonic tropical storms will be turned up louder.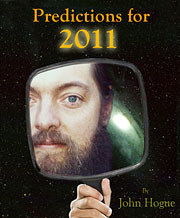 Mother Nature will try to unplug our ears with low-pressured tropical tempests and tornadoes of unprecedented fury. She will throw them spinning like a scythe deep into the temperate zones of north and south where such weather is rarely seen.
Will we listen to her message? Will we begin the Herculean tasks of weaning our civilization off global warming CO2 emissions in a generation's time?
You can read about the answer and much more details about why, where and when Mother Nature will visit her storms by reading Predictions for 2011.
John Hogue
(19 January 2011)