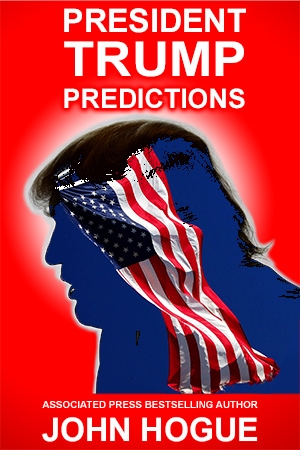 This page keeps you informed on the progress of getting this second book of my highly accurate and successful Trump prophecies out by 20 January 2017, Inauguration Day. My first book, Trump for President: Astrological Predictions was written in September-October of 2015 presenting a real-shot alternative future accurately foretelling how Trump could pull off an upset victory against Hillary Clinton and much more. Back then it already set the foundation for what a Trump as president of the United States might do.
This new book will build upon that foundation and especially focus on the all-important and most challenging first two years in office awaiting our 45st president.
GET ON THE LIST FOR A PERSONAL PUBLISHING ANNOUNCEMENT!
Just Contact Me at this link, put only one word in the email subject line: Trump. I'll make sure you're informed when this book is available as an eBook and Printed Book. Looks like it might be released in September 2017.
CHECK OUT THE EVOLVING TABLE OF CONTENTS!
Come visit the page frequently to see how this new book and its themes are evolving. Here's the first draft of the Table of Contents:
FOREWORD
A Journey through Fears
Hopes and Potential Futures
INTRODUCTION
Predicting Election Upsets
And Trump Revolutions
CHAPTER ONE
Oh Say Can You "Idiocracy" See?
CHAPTER TWO
The Shape of Things
And Cabinets to Come
CHAPTER THREE
The Right Way
To Petition a President Trump
CHAPTER FOUR
How Disenfranchised Voters
Can "Make Amendments" with Trump
CHAPTER FIVE
Some Sage Advice from Osho
The Guru of the Rich
CHAPTER SIX
TrumpCare: is the "Price" Right?
CHAPTER SEVEN
A Bull Market
In a China Shop Trade War

CHAPTER EIGHT
Immigration and Deportation
CHAPTER NINE
2017: To Dream the Impossible
Infrastructure Dream
CHAPTER TEN
August 21, 2017:
Trump Eclipsed by Trump?
CHAPTER ELEVEN
Destroying ISIS all Way to Iran
And World War III
Through a Back Door?
CHAPTER TWELVE
2018: Waking up to
A Greater Depression Nightmare
CHAPTER THIRTEEN
What becomes of You
When Elected Under the Sign
Of the Dictator?
CHAPTER FOURTEEN
Trump Global Warming Science
EPILOGUE
Impede, Impressed or Impeach?
Getting into Deep Trouble
With the Deep State
OTHER BOOKS BY JOHN HOGUE
SAMPLE CHAPTERS