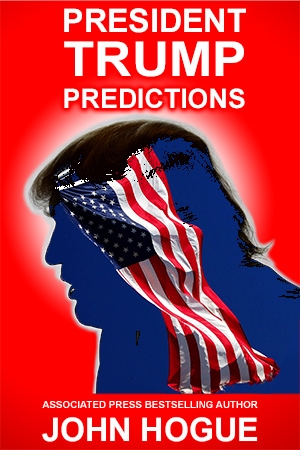 This page keeps you informed on the progress of getting this third book of my highly accurate and successful Trump prophecies now scheduled for release in the first half of 2020. My first book, Trump for President: Astrological Predictions was written in September-October of 2015 presenting a real-shot alternative future accurately foretelling how Trump could pull off an upset victory against Hillary Clinton and much more. Back then it already set the foundation for what a Trump as president of the United States might do. Next came my book on Trump's 180-degree foreign and military policy mood shifts, entitled Trump Strikes Syria: and North Korea? It was written in April 2017. The current crisis coming to the brink of war over Korea and the oncoming collision in Syria between Russian backed "vassals" clashing with US backed Kurdish "vassals" surrounding and defeating ISIS makes what I wrote in April sound like it was written today–including the peace breakthrough potentials. I hope you'll read both these Trump books while I'm completing the climactic third and final epic.
I had to stop work on that third book in April to write the Syrian/Korean tome. I haven't been able to return to it until other books already in the waiting list are finished first.  That means I resume final work shortly after New Years Day 2020 and hope to have it released before the summer solstice in June 2020. This book builds upon the themes of the other two as its foundation. It will especially focus on the all-important prophetic question, What would a second term in the White House look like? Does President Trump have a future?  Will Democratic witch hunts, scandals or a more shadowy denizens in the Washington Swamp take him down? Or not!
Like the others it is a rare fair and balanced overview about the President. It is a book I want him to read as well as anyone else. A book that will not pull punches but not deny the positive potentials and the responsibility that the American people on both sides need to take up as a challenge to be better communicators using love–not reaction and hate–to help this "open channeling" president be a medium for what is good for the country.
GET ON THE LIST FOR A PERSONAL PUBLISHING ANNOUNCEMENT!
Just Contact Me at this link, put only one word in the email subject line: Trump. I will give you updates on the progress of completing it. If you've already asked to be on the list long ago, don't worry. You are still on the list. No need to repeat request. I'll make sure you're informed when this book is available as an eBook and Printed Book.
CHECK OUT THE EVOLVING TABLE OF CONTENTS!
Come visit the page frequently to see how this new book and its themes are evolving. Here's the first draft of the Table of Contents:
FOREWORD
A Journey through Fears
Hopes and Potential Futures
INTRODUCTION
Predicting Election Upsets
And Face-Planting Trump Revolutions
CHAPTER ONE
The Trump Inauguration:
Imagine if you will Barack Obama
As He enters the Twilight Zone
CHAPTER TWO
Oh Say Can You "Idiocracy" See?
CHAPTER THREE
Celebrity Apprentices Cabinet
CHAPTER FOUR
How to Petition a President Trump
CHAPTER FIVE
"Making Amendments" with Trump
CHAPTER SIX
Some Sage Advice from Osho
The Guru of the Rich
CHAPTER SEVEN
TrumpCare: Is the "Price" Right?
CHAPTER EIGHT
Immigration and Deportation
CHAPTER NINE
A Whole lot of Bull
In a China Shop Trade War
CHAPTER TEN
2017? No, 2018? Maybe 2019:
To Dream the Impossible
Infrastructure Dream
CHAPTER ELEVEN
August 21, 2017:
Trump Eclipsed by Trump
CHAPTER TWELVE
Destroying ISIS all the way to Iran
North Korea and World War III
Through Hell's Back Door?
CHAPTER THIRTEEN
Trump Global Warming Science
CHAPTER FOURTEEN
Waking Up Late to
A Greater Depression Nightmare
CHAPTER FIFTEEN
What becomes of You
When Elected Under the Sign
Of the Dictator?
CHAPTER SIXTEEN
Impede, Impress or Impeach?
Trump getting into Deep Trouble
With the Deep State
EPILOGUE
Two Beggars in a Forrest Fire
Meet Zorba the Buddha
And Find their Cup of Milk Matters
OTHER BOOKS BY JOHN HOGUE
SAMPLE CHAPTERS