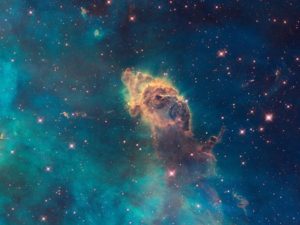 Click on the cover and with your donation of $12.50 or a little more, you can get on the waiting list to receive the donor's only expanded edition of this epic book, now with a new title Predictions 2018-2019: Years of Crisis and Breakthrough when it is soon finished no later than sometime in the spring of the new year.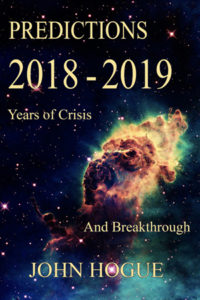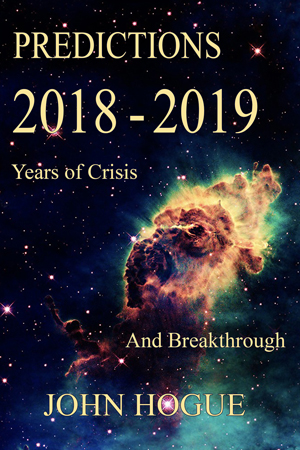 This epic book has been long delayed for two years because all of 2015  and 2016 saw me become a full-time caregiver aiding my mother through the final stages of her life to a beautiful passing on 15 July 2016. The process, conjuring big, life-altering changes, had made my return to full-time writing a gradual affair; however, there's a hidden blessing in this. I believe this book by being delayed two years will now slot itself into the prophetic bi-annual time frame that is far clearer to explore as it is the climax of this momentous decade of the 2010s. Since 2017 dawned, I've been steadily catching up with publishing my back log of book assignments I'm obligated to finish first because I depend on these to make my living as a full-time writer and forecaster.
So far in the last 13 months I've published six books and these are now available at Amazon as eBooks with Lulu premium trade and Amazon paperback printed editions for the new year 2018.  They are Trump Strikes Syria: and North Korea?, John Hogue's Worldwide Astrological Predictions for the Real New Year: Spring 2017 to Spring 2018, The Great American Eclipse: Earthquake and Tsunami, Beyond Alt-Right Alt-Left: A Community of Americans,  A Spiritual Rebel's Manifesto: Climb Aboard the Noah's Ark of Consciousness, and the newest release, Ten Predictions 2018: Plus, the US Midterm Election Forecast.
To expedite the completion of Predictions 2018-2019 by early Spring, I've pushed the completion of the epic  President Trump Predictions to late Spring of 2018.  I've reduced my other publishing projects to What "Really" Happened to Hillary Rodham Clinton: An Astrological and Prophetic Assessment and John Hogue's Worldwide Astrological Predictions for the Real New Year: Spring 2018 to Spring 2019. Both will be released around April and May.
Questions have come in about the new title for 2018-2019: is it the same book people began donating for two years ago?
ANSWER: Yes, this is the same book with a new title updating the years forward from 2015-2016, 2017-2018 and now the new years to cover. It's prophecies will give you 24 months of forecasting starting with spring of 2018 taking you through to the end of the 2010s decade and into the Spring of 2020, examined  in the Epilogue entitled "A Glimpse into the Roaring 2020s: Humanity's most dangerous and potentially transformational Decade."
Everyone who's already on the list will get this final evolution of this epic bi-annual book that will even be more breathtaking in its international scope forecasting these pivotal years of many crises, upheavals in politics and the climate and the potential breakthroughs possible only when the human race is faced with a collective, planetary emergency to stave off, together. From now on I will continue to publish these unique bi-annual prediction books with no confusing overlap. After 2018-2019 the next biannual book of forecasting will be called Predictions 2020-2021 and so forth. Plus I will write my first prophecy book giving a forecasted overview of an entire decade called Predictions for the Roaring 2020s: The most Dangerous, Breakout Decade in Human History.
At present,  a gift donation of $12.50 or a little more,  can give you a gift in return: a PDF copy of the expanded "donors only" edition of Predictions 2018-2019.
Not on the list yet? Please join it so you can receive the special donors only expanded edition as a pdf download of this book when it comes out this Spring 2018. I'll give you the official release date as soon as I know what it is.
Only the Donors Edition will include extra features. One of these is an whole extra Appendix chapter entitled We are All made of God Stuff.
Astronomer Carl Sagan in the award winning documentary Cosmos described all that we see in sky and on Earth, including each other, as "made of Star Stuff." From big bang dust to stellar dust, in a great breathing out and breathing in of what the Hindu's would call a Great Kalpa–an exceedingly long era of time, dozens of billions of years– the Universe breathes out from and retires back into the Unknowable to then breathe out cosmic appearances once again.
This exclusive chapter takes Carl Sagan's concept one big step deeper in understanding what is hidden underneath the veil of stellar dust that had formed and created all of us, all living and inanimate things, worlds, stars, galaxies and the dark matter that holds them.
The second extra feature is a glimpse into the future of a completely new Science Fiction genre. You've heard of ScyFy? Here comes the first of many short stories and novels from my new PROPHECY Fiction Genre: ScryFy: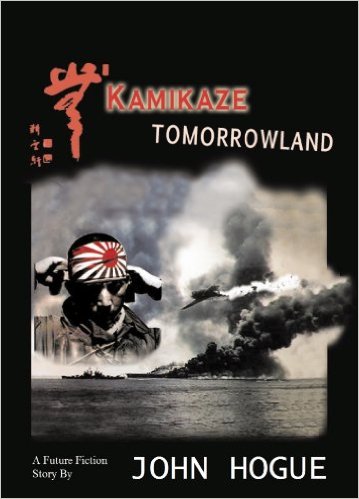 I define ScryFy as a form of prophecy-science fiction and fantasy. It is neither fiction nor non-fiction. ScryFy is transfix-tion. 'Scrying' is a basic form of divination using objects, like a magic mirror, or crystal ball, that, in the hand of the initiate, can reflect the dark shadows of potential future destiny.
Let this new eShort Story Genre be your scrying tool reflecting back a blend of wisdom, fact, fantasy' and sometimes' real prophecies about alternative futures and true events to come from the ever transfix-tional world of the future.
Having launched my writing career with the help of Ray Bradbury as an early, personal mentor, I've gathered a deep knowledge of Nostradamus' texts and other prophetic traditions that, combined with his love of science fiction and fantasy, have given rise to this wonderful union of fact, fiction and prophecy in a new and captivating genre.
Here's how the donors special expanded edition with the first of ten ScryFy tales I will publish in 2018 can be yours:
Option 1: Donate $12.50 or a little more on line to this link taking you to the PayPal page:
http://www.hogueprophecy.com/support-hogueprophecy/
Be sure to put 2018 in the Paypal memo line or send me an email to hoguebulletin@hogueprophecy.com with just 2018 in the subject line. No need to write anything further.
Downloads will begin in the order I receive them over the last two years.  The date to be announced beforehand on all my media pages and the HogueProphecy Bulletin.
IMPORTANT REMINDER: please use Gmail for best downloading results and please do not use the following email servers at all: Mindspring, Earthlink, Century Link, Cox Net, Charter, MSN, Telus, Roadrunner, Internet Explorer, or Peoplepc.
If you use these old email address servers there's a chance I'll receive your emails but these older email systems will block you from reading my sending  your PDF book by email and you'll never be told why. It will look like I simply didn't send it to you when indeed I had.
So, here's the solution, when I've announced on my Facebook Private  and Public pages and those on my free newletter list, the HogueProphecy Bulletin that all gift PDF eBooks have been launched, that's when you should write me and inquire about your PDF book. Don't worry, I am dedicated to getting you your PDF eBook gifts "with your help."

Also, be advised, I cannot be responsible for you changing, or deactivating the email address you put on your donation. I certainly will be trying to get you your donors copy as best I can, but you'll be responsible for contacting me about any email address changes, of course. And I trust you will.
Option 2: Donate by Snail Mail:
Send your email address along with a US check, US bank draft or US money order of $12.50 or a little more, payable to "John Hogue," to the following address.
John Hogue
P.O. Box 666
Langley, WA 98260
Please print out your email address using a printer to ensure it is legible.
Thank you for supporting HogueProphecy with your donation.
I'm so excited to at last see light at the end of this long tunnel getting this epic book finished for all of you!