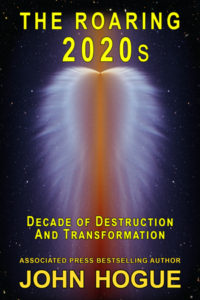 Click on this link and with your donation of $12.50 or a little more, you can get on the waiting list to receive the donor's only expanded edition of this epic book. This is the final title: The Roaring 2020s: Decade of Destruction and Transformation. Its estimated publication (though subject to change) is around the Spring Equinox of 2020.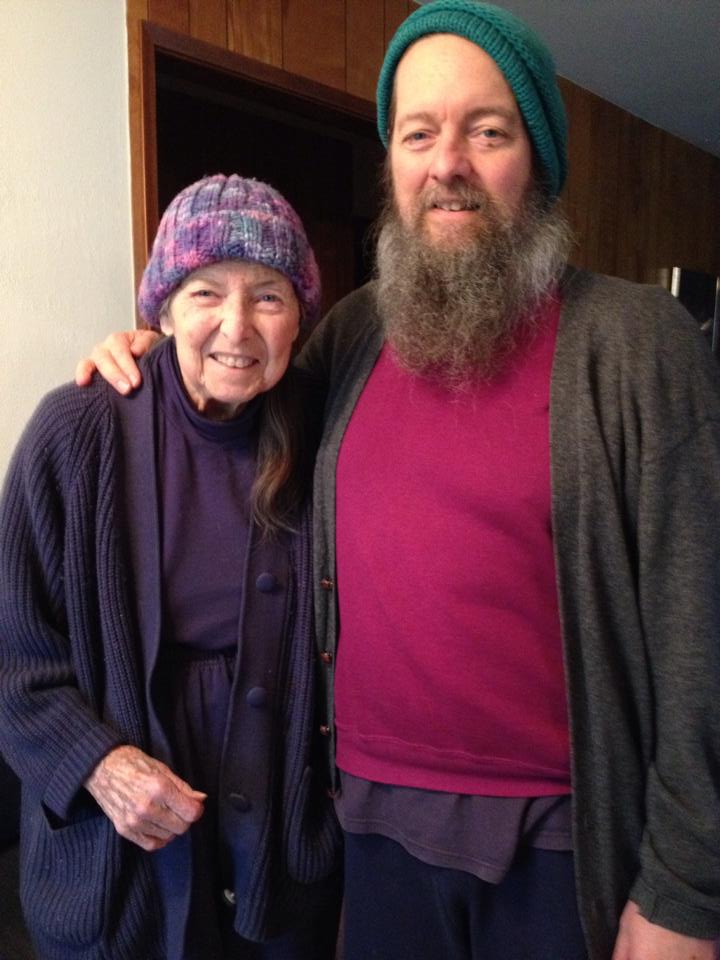 This epic book has been long delayed for four years and counting because all of 2015  and 2016 saw me become a full-time caregiver aiding my mother through the final stages of her life to a beautiful passing on 15 July 2016. The process, conjuring big, life-altering changes, had made my return to the full-time writing of this massive tome a gradual affair; however, there's a hidden blessing in this. I believe this book by being delayed will now slot itself into a far larger time frame than the originally planned bi-annual edition. Indeed I will no longer do bi-annuals. Now you will all get a book that looks down AN ENTIRE DECADE.
And what a decade it will be! If the message of this book is understood and heeded, you might get a future where I can write another decade-covering book for the 2030s.  The pressures of slotting this book slowly back into the schedule of books I have life and time left to write make it impossible to give a solid release date, but hey, if people can forgive RR Martin for his long delays completing his literary version of Game of Thrones (A Song of Ice and Fire), I trust my readers will be patient with me as well. Both Martin and I are overwhelmed with projects. Moreover, my epic effort to capture the potentials of this account of the 2020s, the most important decade in human history to date is a massive prophetic and literary undertaking worth the wait. It will either be our last decade as a species, or find us learning the lessons a civilization needs to learn that makes its future beyond this point possible of being exploiters to guardians of a habitable planet. Rather than die out from our own abuse and stupidity, we get through the 2020s and we just might continue into the next evolutionary stage that most planetary civilizations never achieve. We may as a human race delver deeper into the next epochal journey into inner consciousness and love as well as explore outer space.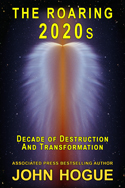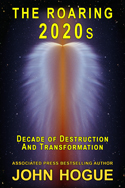 Thus the symbol of this book cover of angel wings made of tails of comets, the heavenly portents. Whether this apparition is a portent of the Angel of collective human death or perpetual, even intergalactic, human life will be decided by all of our individual-to-collective actions in the 2020s.
Get the Expanded Edition, Donate by Email:
When this book is released, it will appear in all forms, eBook, printed book and audio. But first it will be issued to readers that have helped HogueProphecy thrive. To get the special, illustrated and expanded donor's edition give  $12.50 or a little more,  and when it's at last completed I will send you a PDF attachment of this expanded edition in return using the email address you sent with your PayPal donation.
Not on the list yet? Please join. Just click on that link and it will take you through to my PayPal Page. Put 2020 in the memo line or send me an email at hoguebulletin@hogueprophecy.com with 2020 in the subject line. You will be immediately added to the list of recipients and notified when the PDF is ready.
Downloads will begin in the order I receive them over the last several years.  The date to be announced beforehand on all my media pages and the HogueProphecy Bulletin.
You can Donate by Snail Mail too:
Send your email address along with a US check, US bank draft or US money order of $12.50 or a little more, payable to "John Hogue," to the following address.
John Hogue
P.O. Box 666
Langley, WA 98260
Please print out your email address using a printer to ensure it is legible.
Thank you for supporting HogueProphecy with your donation.
I'm so excited to at last see light at the end of this long tunnel getting this epic book finished for all of you!
Over the many months to come I will be sending bulletins here about the process and share brief overviews of the themes of the book. Love to you all!
John Hogue
PS–IMPORTANT NOTE TO ALL DONORS OF THIS BOOK UNDER ITS DIFFERENT TITLES:
To all donors waiting starting back at the beginning of the list in the latter half of 2015. This is the final title of the book you may have donated for under the titles Predictions 2016-2017, then Predictions 2018-2019 and Predictions 2019: and into the Roaring 2020s. You have already donated and are on my list to receive this book under its final title: The Roaring 2020s: Decade of Destruction and Transformation.