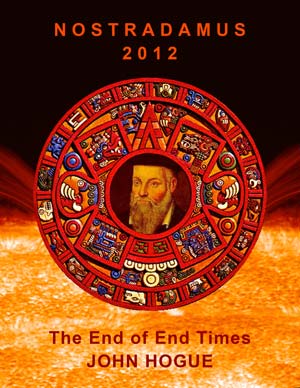 $12.50
PDF digital book – NO shipping. After purchasing, you will download this item to view it. That means it is not a book made of paper. © 21 December 2011, John Hogue, All rights reserved. 65,282 words, 177 pages, 42 color photos, graphics. Published by HogueProphecy Publishing.
After purchasing you will need to click on the words "Return to Hogue Prophecy Publishing" to complete your transaction and to get your download link.
OVERVIEW
Do you remember 2012? What a year that was! We all lived it a very long while ago. Not just a few weeks ago when 2013 dawned. Way back over a dozen years ago when 2012 really happened, the quickening of history and the fever of climate change began. In 2013, we are well into the death and renewal of ages. The most recent winter solstice came and went. All those silly fools who wrote 3,000 books about that have overlooked the real year that was "2012" and Nostradamus' direct connection to it.
The Post-Mayan Apocalypse has come! Time to sort out the Great Went of another apocalypse doom or bloomsday that fizzled.
In this new e-Book, I will take you back to the future, dispelling 25 years of doom and bloomsday myth so that what Nostradamus and the Mayan prophecies actually intended can have a last word in this aftermath of popular obsession with the Mayan Calendar shifting in 21 December 2012 set to anticipate a change of ages. Gone then, are cosmically required dates to grow up. I will also share a secret that can help one celebrate and live each moment galactically aligned and harmonically converged, ever NOW. No date on a calendar or galactic line up, required.
This completely new, fully illustrated e-Book is intended to be the summation of, and last word on the 2012 Mayan Prophecy phenomenon, revealing Nostradamus' unique association with the Mayan Prophecy that has yet to be understood or covered by any 2012 books written so far. It is the "afterward." Wake up from dreams and see prophecy's reality.
TABLE OF CONTENTS: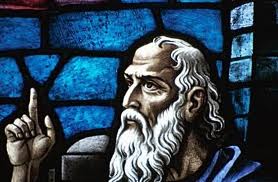 INTRODUCTION
2 0 1 2: Is this the Real Millennium
Are We Going Chicken Little's Way?
The End of the World as we know it is Late
The Maya behind the Mayan Calendar
CHAPTER 1
Nostradamus Traveling through Time
Life of the Prophet
Afterlife of the Prophet
Nostradamus Target Dating the Future
CHAPTER 2
Nostradamus Practiced Mayan Magic?
Nostradamus taken back to the "Barrios"
Remarkable Men with a Meeting?
CHAPTER 3
The Land of the Lost
Book of Nostradamus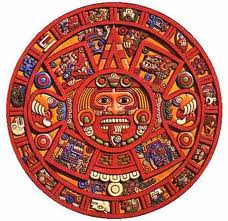 Lost Dog-Eared Prophecy Book Found?
A Work of Father Prophet Envy?
Television projecting Flaming Castles in the Clouds
A "Bridges" Too Far
Gilligan's Apocalypse Island
CHAPTER 4
1999 was 2012 to Nostradamus
Ugly Stretch marks on Linguistic License
The New Age Born from Two Labors of the  Sun
And the Photonic Band Played On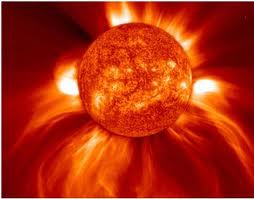 CHAPTER 5
Many Crossroads in Time
Cue the Proph-arazzi
Time's "Reboots" are made for Walkin'
The Final loud Flush of the Mayan Orb
CHAPTER 6
Towards the Roaring 2020s
The Doomsday Decade ahead
Nostradamus' Tribulation of Quickening History
Entering Catastrophe with Eyes Wide Shut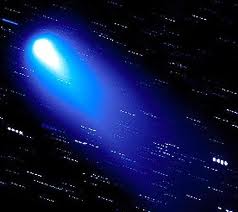 CHAPTER 7
The End of Stupid
And the Critical Mass of Now
The Sum of All Fads of Forecast Fear
Enlightenment Entitled-meant
Ever Now is the Time to Harmonically Converge
From iPhone, to iPad, to iEnd Time?
12 December 2012:
The End of End Time?
Too Chicken Little Too Late?
New Projected Release date:
Downloads begin 19-21 January 2013 
(With your financial help)
Reserve your copy by sending an advanced donation of $12.50 or more to:
http://www.hogueprophecy.com/support-hogueprophecy/
Be sure to write 2012 in the Paypal message box. You will then be on the list to receive the e-book when I have completed it. I will send the pdf file in an attachment using the email address you used to make your donation.
GET TWO HOGUE e-BOOKS WITH YOUR DONATION
An advanced donation of $25.00 or more automatically reserves you Nostradamus 2012 and gets you the already released Nostradamus and the War with Iran – Islamic Prophecies of the Apocalypse as my gift for your generous gift. You can make your donations here: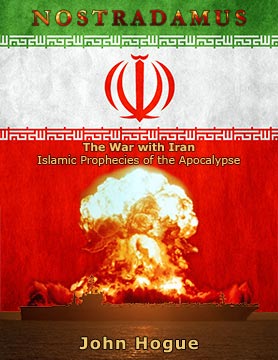 N O S T A D A M U S
The War with Iran
Islamic Prophecies of the Apocalypse
This completely upgraded, expanded and fully illustrated new edition of my 2007 book on Nostradamus and Islamic prophecies about the next, great Middle Eastern conflict. Read about this war with the Persian Gulf and Strait of Hormuz openly named as well as other chilling details of aerial and naval combat by Nostradamus over 450 years before it is about to happen. For a $25.00 donation or more, you will receive a  Nostradamus 2012  download on the Mayan Calendar's important date "and" right away, a download of this prophecy epic:
http://www.hogueprophecy.com/support-hogueprophecy/
YOU CAN SEND YOUR DONATIONS BY SNAIL MAIL
Be sure to write 2012/Iran in the Paypal message box.
If you prefer not to use Paypal, no problem. Make your US draft or US check payable to "John Hogue" and send it with a legible email address enclosed to:
John Hogue
P.O. Box 666
Langley, WA 98260
If the donation is $12.50 or a little more, please specify which book you want by writing either "Iran" or "2012″ on your check. If it is $25 or more, no need to specify.
Be sure to send a legible email address so when the book is finished, I can send you your pdf file via an attachment for the Iran book.
Remember, these are each an "e-Book" and not books made of paper. Still, you can print your own hard copy of the book(s) with my pdf files when they arrive.
RECEIVE "THREE" BOOKS WITH YOUR DONATION OF $100 OR MORE
Not only will you get the two e-Books seen above. I have in stock seven first edition titles of my rare printed books. Along with two e-Books, one of these be your personally autographed and addressed gift for a gift donation of $100 apiece (if living inside the US) or $120 (if living outside the US). For those Kiwis and Kuala Bears living in far off New Zealand and Australia, shipping requires a donation of $130 for each book.
Click on the links below to sample overviews of these rare and wonderful books: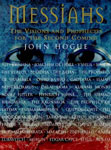 MESSIAHS: The Visions and Prophecies for the Second Coming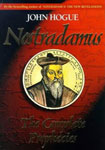 NOSTRADAMUS: The Complete Prophecies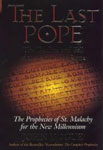 THE LAST POPE: The Decline and Fall of the Church of Rome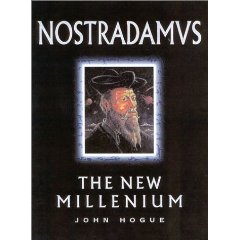 Nostradamus: The New Millennium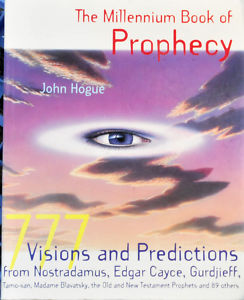 The Millennium Book of Prophecy:
You can receive these premier quality printed classics of John Hogue right now while waiting for the new Hogue e-books later by making your donation here:
http://www.hogueprophecy.com/support-hogueprophecy/
Your special edition printed book or books will be shipped out on the next day my country post office is open.
Please specify which book or books you want shipped in the Paypal message box, or, contact me at this link with the book or books you want as gifts for your gift to Hogueprophecy.
Thanks for being a reader of Hogueprophecy,