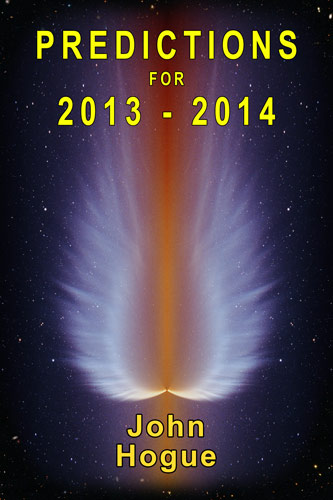 A New Title, a New Direction, a New Revelation
Now at last I understand why this book of annual prophecies has been so often delayed. It has a greater vision to share.
Far more significant than a journey through the 12 months of a year is another unit of time, beginning on the  first  day  of  May  2013 and ending in the final week of December 2014.
This book goes beyond 2013. It is about the most important 18 months humanity has ever had the opportunity to experience. It comprises the climax of Saturn's karmic 28-year cycle – its passage through the sign of taxes, the portent of the bill coming due, presenting what future we wish to inherit. It is about what lies beyond the death-numbered year 13 of the 21st century.
In these 18 months the old way humanity has solved problems and defined itself must change. That in us which is preventing this transformation must be burned down by the fire of an awakening consciousness in each and every one of us, high and low, leaders and led. That fire must burn a new destiny into us, rendering our past-oriented and habitual ways of thinking and doing into ashes so that a new understanding and a new direction for humanity can arise phoenix-like and fly again.
This eBook will expand my Oracle's gaze into events of 2013 and Beyond: all the way to the end of 2014 so it can foretell and enlighten you about an opening, an opportunity taken hold or wasted, for the current human globalizing civilization to either change course consciously or pass through an apocalypse of unconsciousness.
May 2013 to the end of December 2014 is the LAST CALL of destiny for human beings to set in motion fundamental reforms. This is our last chance to peacefully alter human destiny by redefining what it is to be human in all aspects of life: spiritual, emotional, economic, and political. It is our last chance to redefine and at last take up our role and responsibility to care for the only planet upon which we exist.
A temporal doorway the width of 18 months has opened. If humanity can start walking on the path of re-membering, becoming one, uniting, undivided, if all of us can set forth finding common ground and purpose, we take our civilization on the ascendant path of balance. If in these 18 months we can take the first step, we will find ourselves and our civilization already half way through the journey upon a new path into tomorrow where awaits a golden future. From a future path that is pathetic, we could stride along a new path of empathy, of harmony, co-prosperity, love and compassion. If we take this new path many of the horrors and catastrophes of the coming decades can be greatly reduced and our journey to a golden era of peace will be far shorter and less irrigated by blood and tears.
Yet if we let our stupidity rule the day and procrastinate; if we keep kicking our unsustainable core problems down the road of the next 18 months, we still might be reformed and reborn as a mature civilization someday, but at a devastating cost to all of us and to this beautiful planet, because the redefinition of humanity will not be empowered by us but empowered by the forceful consequences and momentum of our stupidity and unconsciousness.
If we continue on the path we are on, a good number of you reading these lines will not see the golden age that could come soon if right choices and actions are not embraced right now. Time is running out to stem the tide of economic collapse, resource wars, political elitism and gridlock. There is soon to come beyond the end of 2014 a general social breakdown of civilized society. There will be ignited a new wave of global fascism beyond 2014. Much of these tragedies, plagues and terrors will be the result of a planetary climate crisis that we not only deny is upon us but is hastened and strengthened by our own greed in the service of unconscious, coveting hands.
Saturn in astrology rules Reality.
Saturn reveals to us the extent to which we limit human potential by blindly sustaining our illusions and lies. Heed well and understand through this book of prophecies, how postponement in facing ourselves can postpone a golden age. This book will shine prophecy's light upon what we need to encounter, what doesn't work – what is stupidity hiding under the cloak of religion, economic systems, politics and other fossilized foolishness masquerading as hallowed traditions of the past. These cannot and will never carry us over this abyss of looming planetary crisis to prophecy's promised golden future.
We have 18 months left in Saturn's passage through the sign of engagement, death and resurrection. In this book are the signs of how we can waste this opportunity or grasp a golden dream and work together to make that future our reality.
John Hogue
(Updated 07 August 2013)
Explore my New Facebook Page and Leave a "Like"
This special expanded edition of the book was released 20 July 2013. You can receive a copy with a contribution of $25.00 or more and receive this special donor's edition of Predictions for 2013-2014 that includes the chapter on Hopi Prophecies of the Blue Kachina Star. Only those readers who by their contribution keep HogueProphecy going will receive for their gift a gift chapter that will explore whether the Comet ISON expected to be one of the brightest comets in a century is the "bearded" Blue Kachina Star heralding what the Hopi predict is The Great Purification: a death of the known "Fourth World" into a new and more harmonious "Fifth World" through the element of fire. Will it be a fire of global warming and war? Will we be purified of mind and spirit by a fire of meditation and consciousness? Find out. Become a contributor by donating here:
http://www.hogueprophecy.com/support-hogueprophecy/
Be sure to leave "2013″ in the Paypal note box on the donation page. If you miss it after donating, just send me an email saying the donation was for "2013″. Want to send a donation by snail mail? Scroll down for further instructions.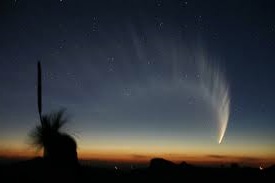 TABLE OF CONTENTS
INTRODUCTION
May 2013 to December 2014:
The Pause before History's Quickening Storm

The Last Call before the Storm
Saturn the Tax Man in Scorpio Cometh with the Bill
The Hidden Luck of Unluckiest Numbers
The Breath before the Plunge
CHAPTER 1
Fire from the Sky
Portents from the Sky
The Great Drought
The Solar Maximum
CHAPTER 2
The Obama Prophecies
Now is the Time
Black Kennedy becomes Black Reagan
Super Fly in the Neo-Con Ointment
CHAPTER 3
The "Drone"-Wellian World Coming
I speak Double "Peek"
T'Obama-talitarianism
CHAPTER 4
When Saturn is in Scorpio
Get'er Done, America!
Saturn at Bat – Three Karmic Strikes, You're Out
Reform Now or Revolution Later
An American Versailles and a Woman's Care for the Future
CHAPTER 5
China in the Year of the Black Water Snake
Surprises Coiled behind the Scenes
China Braced for and Profiting from the Unexpected
Three Sudden Sino-Military Crises
How do You solve a Problem like Korea?
CHAPTER 6
2013-2014: Towards a Greater Depression?
Drinking the Kool-Aid Economy
Inflated Fiat Promissory Funny Money
EuroPeons and Trickle-down Bailouts
A Price for Everything when Valuing Nothing
From Cold War to "Gold" Wars: "Bonds Away!"
Just a Little "Bit" of Love Coin?
CHAPTER 7
From Arab Spring to Fall
Neptune's Wave of Salafi Brotherhoods
The Great Afghanistan Retrograde
NATO's Quagmire in Syria
The Islamic Thirty Years War
CHAPTER 8
Oh, al-Qaeda U!
The New Terrorist Central
Hey Africa! What's-a-matta U?
Drone War is Peace
CHAPTER 9
The Future of Israel:
Progressive or Apartheid?
The Creeping Pogrom at a Crossroad
Is the Jewish State going South Africa
1953-to-2013: NeoCon Zionism and Iran's Karmic Echo
CHAPTER 10
The Era of Resource Wars
Resource Imperialism
New Theaters of Resource Conflict
Follow the Fake Food Crisis to Future Revolutions
CHAPTER 11
An Invisible Supervolcano Erupting
A Caldera the Diameter of the Arctic Circle
Man is "Fracking" Crazy!"
Earth Fever – Earth Convulsions
CHAPTER 12
It's Global Warming, Stupid!
The "Fog" in the Boiling Water
Pearl Harbors in the Hot House
CHAPTER 13
The Hopi Prophecy
Of the Blue Kachina Star
The Great Purification coming in the Days of the Comet?
Death of an Age comes Dancing
Of Man and Meteor-made Stars Falling
EPILOGUE
Zeitgeist a Golden Age
There are three ways you can send your advance donation and receive this special edition.
Option 1: Donate $25.00 online:
Be sure to send your donation through this link: Support and place "2013″ in the subject line.
I am currently writing and designing the book. Health issues in the family and being pulled to appear on television, radio and write articles about the resignation of Pope Benedict XVI and the choosing of a new Pope Francis has forced me to make one last change in the release date. Now then, if an errant North Korean missile does not make me a refugee next month,  The Donor Special Edition was published on  20 July 2013. Any further developments are reported on my free newsletter.
Not a member of the newsletter? Sign up here.
Then, I will send you a direct download via the email address you type in on the Paypal page with today's donation. Please do not use Roadrunner, Cox net, MSN, Internet Explorer, Charter, Telus, Mindspring, Earthlink, or Peoplepc email servers. These and perhaps Hotmail as well will bounce my eBook back at me because these servers limit bandwidth for e-book sendings.
Use any other server. Gmail is best. They give unlimited bandwidth to downloads. You can make a Gmail email account by going to Google. It is free and easy.
Option 2: Donate by Snail Mail:
Send your email address along with a US check, US Bank Draft or US money order of $25.00 or more payable to "John Hogue" to the following address.
John Hogue
P.O. Box 666
Langley, WA 98260
USA
Be sure you write "2013″ on your check
When your donation comes in the mail, I will use your email address to send a direct download of the book. Be sure your email address is legible. Print it out with a printer for best results.
Option 3: Receive autographed Rare Hogue Books "and" Predictions for 2013-2014.
Hobbit sized or heroic, each donation is of equal importance to the continuation of Hogueprophecy in this most important of prophetic years . I have a third option for those who can give a larger donation.
You can get a free copy of Predictions for 2013-2014 and much more.
I have in stock seven first edition titles of my rare printed books. Each one can be your personally autographed and addressed gift for a gift donation of $100 apiece (if living inside the US) or $120 (if living outside the US). For those Kiwis and Kuala Bears living in far off New Zealand and Australia, shipping requires a donation of $130 for each book.
Click on these covers and or links to sample overviews of these rare and wonderful books: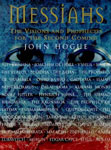 MESSIAHS: The Visions and Prophecies for the Second Coming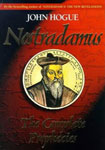 NOSTRADAMUS: The Complete Prophecies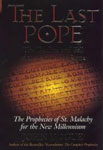 THE LAST POPE: The Decline and Fall of the Church of Rome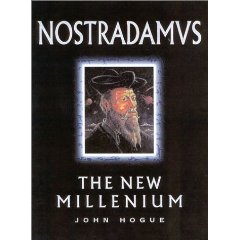 Nostradamus: The New Millennium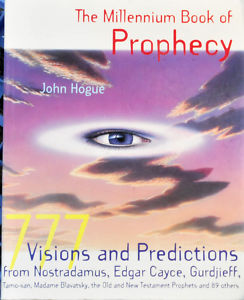 The Millennium Book of Prophecy
Your special edition printed book or books will be shipped out on the next day the post office is open. Your copy of Predictions for 2013-2014 will be downloaded to you as soon as it is completed.
To reserve your printed book or books now, contact me at this link
I will then email you back confirming I am holding your printed book or books. Then I'll instruct you to place your donation online or via snail mail like you see above.
Thanks for being a reader of Hogueprophecy,