(It is important to note that the reflections you see on this page below where written many years ago in December 2000, before President Bush officially became president and nine months before the 9/11 terrorist attacks on the World Trade Center and the Pentagon dragged the US into wars in the Middle East. This was written before the US Patriot Act  threatened many civil liberties and nearly a before Climate Change became a daily topic on mainstream US news outlets.)
The Illusion of the Future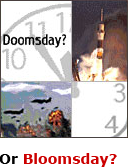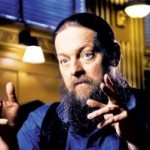 Years are illusions. Numbers are illusions. What numbers did we count before we were born? What numbers or years will we be hypnotically fawning about after the brain that counts has forgotten its adopted language, and its adopted mentality, and has ceased to be? The future is another illusion wrapped in hopes and fears unsubstantiated by reality.
The present is the only reality!
Still we can conjure up the future's ghosts of things to come. These unborn spirits of events yet to be can help reflect back to us the potential outcomes of things we create in the reality that is eternally "today."
What then does today's mirrorlike illusion reflect for our immediate future and beyond?

Transition!
Revolution!
A spiritual rebellion against the fossilized past…
With the year 2001 we began a 30-year period of chaos from which the stars of a new humanity could be born.
Global Warming and Environmental Conservation
The choice is ours whether we continue to over-breed and over-consume the earth's finite resources and reap global warming's whirlwind.
If other nations continue to adopt the American apocalyptic fad of waste and consumption then we will remember our present as the time that saw the seeds of civilization's collapse planted. These seeds will flower with all their horror in the United States, and other nations by the 2020s.
In the future, starting with now, more and more people will come to understand that civilization has yet to happen on this planet.
They will courageously face the heartbreaking truth that Democracy has yet to appear in the world!
Thanks to the disaster that the Bush presidency will be for the world, more and more people will seek the birth of a new and loving human race on this planet within themselves. They will turn away from lies of salvation and solutions peddled from outside of themselves.
Human Evolution and Meditation
The seed potential of humanity has not collectively flowered, although this seed sleeps within the soil of each living human being. True, there have been individuals who have reached their full potential of being aware and loving human beings. You have flowering individuals like, Krishna, Buddha, Rabya, Jesus, Socrates, Gurdjieff, Krishnamurti, and Osho, but for the rest of us, the Sufi mystic, Suleiman Dede, best exposed the truth behind the pretension of our humanity when he defined us as "talking animals."
Talking animals rule by Mobocracy. That is what we have today in the world and in the United States. This moment in history will make this painfully apparent for those living in the last superpower.
In the near future there will be a greater understanding that real democracy has never happened on this planet. A political crisis in the coming years may see the mischief of apathetic voters come home to roost when a war in the Middle East threatens acts of terrorism in America. History shows that faltering governments often seek, or create common enemies to distract the populace from real domestic problems by uniting them behind their leaders to defend against a "greater evil." In the worst case scenario, extremist elements in the Bush administration might use a threat–or actual act of terrorism–as an excuse to evoke emergency rule. They would then gag the press, detain activists, and generally suspend democratic freedoms of American citizens above and beyond the needs of the emergency.
God forbid this should happen, but if it does next year, two years, or two decades from now, the culprit is not the leaders abusing their power, the culprit will be the citizens themselves. When a majority of a democracy's citizens do not participate in the political process or act as their own watchdogs it takes no prophet to predict that such a democracy will lurch towards Fascism. A government reflects the political health of its citizens. At this moment, it can be hoped that enough Americans will recognize that their democracy is adrift and make the coming years a politically revitalized period.
I am only pruning the leaves of this political problem here. In the long run we need a far deeper understanding and pruning of the problem. Government will always fail as long as its root to the cunning, political mind remains uncut.
For real democracy to flower, you first need a real humanity. Not one that conditions its children from birth onwards to identify themselves with borrowed knowledge, dead moralities, fear, hate, mediocrity and hypocrisy.
If enough people do not awaken to this fact–that we have not yet seen real democracy in the world–a new form of Fascism will overtake our mobocracies anytime in the next 20 years.
Fascism will arise again out of the chaos of a humanity that has over-bread, over-harvested and over-exploited its world.
The entire world and its mobocracies will become another version of the Weimar Republic of Germany between the world wars. In other words, the weak and ineffective democracies born out of the mismanagement of politics will provide the climate for a hundred Hitlers to seduce billions with their false messianic salvation in the catastrophic world of the 2020s and 2030s.
It may turn out that Democracy may yet arrive on this planet when all political parties–and the political mind as such–fade away.
What we need is a system of governing that is a-political. Many prophets I have recorded in my books point to the coming of a new political system that transcends the political mind–a Meritocracy. Leadership will not be a popularity contest, with the winner being the biggest BS artist. Being a leader in a Meritocracy becomes a skill, such as being a surgeon.
Do we vote for which surgeon will operate on us? Why, therefore, do we vote for mediocrities to operate on our freedom?!
We must look at the job of wielding power as something requiring the highest training in ethics, wisdom, meditativeness, and civic responsibility.
In that system, a leader, as well as those who vote in such a leader, will be judged by their merits and wisdom.
What is needed in the world is a Meritocracy.
The trans-political system I could fully support is still waiting for us a few centuries ahead of these troubled times. Such a system cannot flower until the toxic poison of the political mind is first exorcised from the field of dreams from which we cultivate visions of a better world.
The day of Meritocracy will come. As great and ancient forests sprout from a single little seed, with time–and with the understanding learned from hard lessons to come–humanity will eventually harvest a system of enlightened government.
Even now, that government waits to sprout in this time, in your hearts!
Let it blossom and spread new seeds all over the world, in the hearts of sleeping buddhas, who have forgotten they are divinely born. Each of you can be a field for the sprouting of this seed in the coming new year.
Best Futures, today,

John Hogue
(21 December 2000)