PDF digital book, after purchasing you will download this item to view it. Best viewed with Acrobat Reader.
by John Hogue, © 2007 Hogueprophecy Publishing, 17,500 words, 55 pages at 350 words per full page for a standard size book.
After purchasing you will need to click on the words "Return to Hogue Prophecy Publishing" to complete your transaction and to get your download link.
$7.50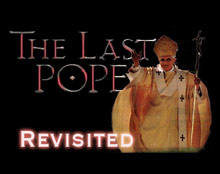 THE LAST POPE REVISITED
The Prophecies of ST. Malachy
A prophetic reassessment after the death of John Paul II of the famous Prophecy of Papal Succession unto Doomsday. Does the crowning of Pope Benedict XVI mark the reign of the second-to-last-pope before the Apocalypse?
The pages of the Holy Gospel laid atop the pontiff's cedar coffin in St. Peter's Square, lifted and turned in soft winds as if some invisible hand was closing the book on one of the greatest popes who ever lived. His name was De labore solis (From the Sun's Eclipse). This Latin motto is not a name most people attribute to John Paul II. It is the label given to him by a saintly Irish pilgrim who upon seeing the holy city of Rome purportedly fell into an ecstatic trance and called out John Paul's prophetic name 865 years before he was laid to rest in the year 2005!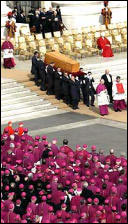 The pilgrim was St. Malachy, the Prelate of Ireland, who in the year 1140 allegedly recorded 111 cryptic Latin mottoes followed by an apocalyptic coda forecasting the succession of 112 pontiffs unto Judgment Day. John Paul II was the only one out of 112 popes St. Malachy foresaw with a name describing a solar eclipse.
How could he have known?
John Paul II would be the only pope on that list spanning the succession of nearly nine centuries who was born on a solar eclipse and entombed on a solar eclipse!
This is one example among many astonishing prophetic bulls eyes from a set of prophecies that do what seems impossible: become more accurate the farther they witness the line of pontiffs ranging down a distant future. For instance, John Paul II's predecessor is called "From the Half Moon." Pope John Paul I was born on the day of a half moon! The names taken at birth or at rebirth as pope, the medallions commemorating unique episodes in papal reigns, and intimate details of family or papal heraldry crowd these prophecies with successes almost too true to be believed.
Dom Arnold Wion, it is said, rediscovered the papal prophecies of St. Malachy and sandwiched them within his tome of over 1,800 pages, entitled Lignum vitae, which was published in Venice in 1595.
Ever since, these Latin phrases have existed under some suspicion of being a forgery. Are they composed in 1140 by the real St. Malachy or by someone in the 1590s under the pseudonym of a medieval saint? The near perfect success of all mottoes forecasting the names, acts and heraldry of popes before their discovery should garner suspicion. Nothing is more accurate than a prophecy foretold "after" the event. Yet truly, if it were a fraud, the 35 mottoes remaining after publication would predict next to nothing accurately. In fact, the remaining 35 mottoes for popes to come after the 1595 publication retain a remarkably high ratio of accuracy.
Whoever wrote them–St. Malachy or someone else–was a prophet. One of the most accurate in history.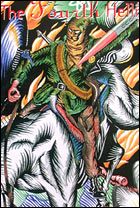 When Cardinal Joseph Ratzinger was elected John Paul's successor in 2005, he took the name of his favorite saint–St. Benedict, founder of the Benedictine Order. It would seem that either St. Malachy or a prescient forger in the 1590s knew he would. He called him De gloria olivae (From he Glory of the Olive). Some monks of St. Benedict are also called the Olivetans because of their symbol–the olive branch. This may imply more than a name but a destiny. Pope Benedict XVI, like an Olivetan, may be set to prepare the world during his reign for the fulfillment of Christ's apocalyptic prophecies made on the "Mount of Olives."
The pope of "our" times will hear the noise of battle near and far and rumors of war. During his watch on St. Peter's throne, nations will make war upon nations. There will be famines, earthquakes in many places. With Benedict we enter times of early signs of the opening travails of a new age.
To what extent is the new pope aware of St. Malachy's prophecy? Had he dismissed or secretly accepted the role of next-to-last pope before the End Times, when it was believed that after great global catastrophes and wars, Jesus would return and judge the world? Was he aware of it, or indeed ready to perpetuate the expected destiny of end time prophecy?
This and other important questions are answered in this long-awaited update of my best selling book from 1998: The Last Pope: The Decline and Fall of the Church of Rome. The eBook The Last Pope Revisited reassesses St. Malachy's prophecies after the death of John Paul II in 2005 hastened the succession of Pope Benedict. We will now see whether St. Malachy's prophecy really marked Benedict as a pontiff standing at the beginning of the global tribulations and transformations to come in the reign of his successor, the last pope, named Petrus Romanus (Peter of Rome).
What is really waiting on the other side
of a door called "Apocalypse?"
When we think of "Apocalypse" most of us imagine fire and brimstone, destruction, final Judgment Day, leading to an eternity of damnation for most–salvation for the chosen few. This eBook will entertain an interpretation both revolutionary and faith provoking. If and when the apocalypse–the revelation of God's divine enlightenment–happens, it is reasonable to expect that it will be something beyond what we have known, hoped for, or feared, because all who have lived before and live today, proclaiming they know what it is, stand on this side of the closed door to its future, revelatory light. How do we know whether the ball and chain of doomsday dogma that orthodox religion has tied to the ankle of our flying being is anything more but a string tied to a harmless balloon?
This eBook will revisit more than papal prophecies coming to the end of their line. If we stand now so close to the opening of Revelation's door, is it not time to do as Jesus once beckoned, to become again "as little children" when facing our prophecies of the end–fresh, open, ready for a new born understanding of what Revelation means?
Apocalypse in Greek means "enlightenment."
TABLE OF CONTENTS
The Prologue
Getting this Hair Shirt off my Chest
The Legend of St. Malachy's Prophecy
Eleven Clues Unlocking the Papal Prophecy of St. Malachy
Are the Prophecies a Forgery from 1595?
Forger or Fulgur? Let Time test the True Prophet
Accuracy Assessment of the Post 1595 Mottoes
An Olive Branch and a Switch
The Pontiff calling the Prophet Black
Apocalypse Now? The Future of Benedict XVI's Reign
Is Benedict XVI the Last Pope, or, is there one Pope more?
Petrus Romanus (Peter of Rome)
An Unexpected Revelation