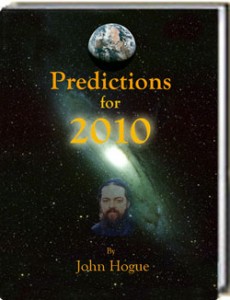 Friends,
My newest eBook Predictions for 2010 is here.
To watch the video preview for the book, click the PLAY button below.
Here is a sample of one of hundreds of prophecies in Predictions for 2010:
"The years 2010 through 2011 will see a spike in climate change never before experienced. There will be stronger earthquakes, typhoons, tornadoes and hurricanes, droughts and floods will make all that happened in the 2009 and its far more devastating predecessor, 2008, look tame in comparison. A few weeks after the ladies and gentlemen of the climate change debate club at Copenhagen have passed too little and too less binding goals for reducing carbon emissions, retribution will begin. You will see this spike loom up in early advents of the typhoon season in the Western Pacific and tornados in the American Midwest and Gulf States of unexpected ferociousness."
History shifted into the Aquarian Age of change in 2008. Year three approaches. Let's be clear, this new Aquarian Age has long been viewed in the misty mirror falsely. Anticipated by New Age cults for the last quarter century our new millennium got framed in an airy, spiritually fairy Piscean Age projection. The Aquarian Age is a time of revolution, a time exposing social hypocrisy and throwing it down either by mass vote or rebellion.
The era of explosive history advances our way.
Relentless destiny rushes upon us so soon that even a new US president must now find his grove of greatness.
In 2010, none of us can have our past and our future too. See how all will now need to capture elusive understanding of how the past and adherence to status quo thinking betrays the very change Barack Obama talks so much about.
We will either blaze new capitalistic trails or embrace the next global economic crash by end of 2010.
Wake up each day in 2010 prepared to see the world changed overnight.
A Few Predictions for 2010:
Behold the rise of new economic unions unimagined, long-time embargos dropped.
Diplomatic doors thought forever closed will open.
In an oncoming year of prophetic surprises, America is handed its green industrial revolution by the people of Iraq.
Afghanistan will blaze while windows for wars elsewhere in the troubled Middle East are closing.
US and NATO forces are going to leave the Middle East sooner than anyone imagined just as a new and unanticipated arena for conflict will emerge.
World War III
World War Three begins in 2010 but not the war anyone imagined. Read it from the oracular source that forecast last year's climate changes with nearly 100 percent accuracy. Mother Nature declares war on humanity. The biggest threat to the future of global economic sustainability belongs to the wild card prophecies laid out in lurid clarity at the close of this book.
Use Predictions for 2010 to chart your course to the haven of inner-natural-security through the gathering storms of history.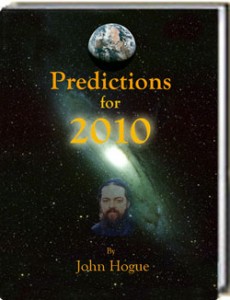 Read more about Predictions for 2010
It is now available as an eBook pdf download
John Hogue
(4 December 2009)