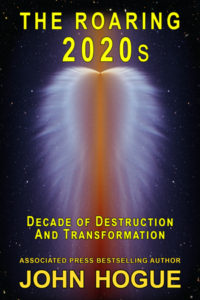 Click on this link and with your donation of $12.50 or a little more, and put 2020s in the PayPal memo line, or send me an email at hoguebulletin@hogueprophecy.com with 2020s in the subject line. You will be immediately added to the waiting list of recipients and notified when the PDF is ready. When it is ready you will receive the donor's-only fully-illustrated and expanded edition of this epic book. This is it's final title: The Roaring 2020s: Decade of Destruction and Transformation through the Next 1,000 Years. After many delays, the principle work began on August 2021. Its estimated publication (though subject to change) is sometime in the Autumn of 2022. And when it's at last completed I will send you a PDF attachment of this expanded edition using the email address you sent with your PayPal donation.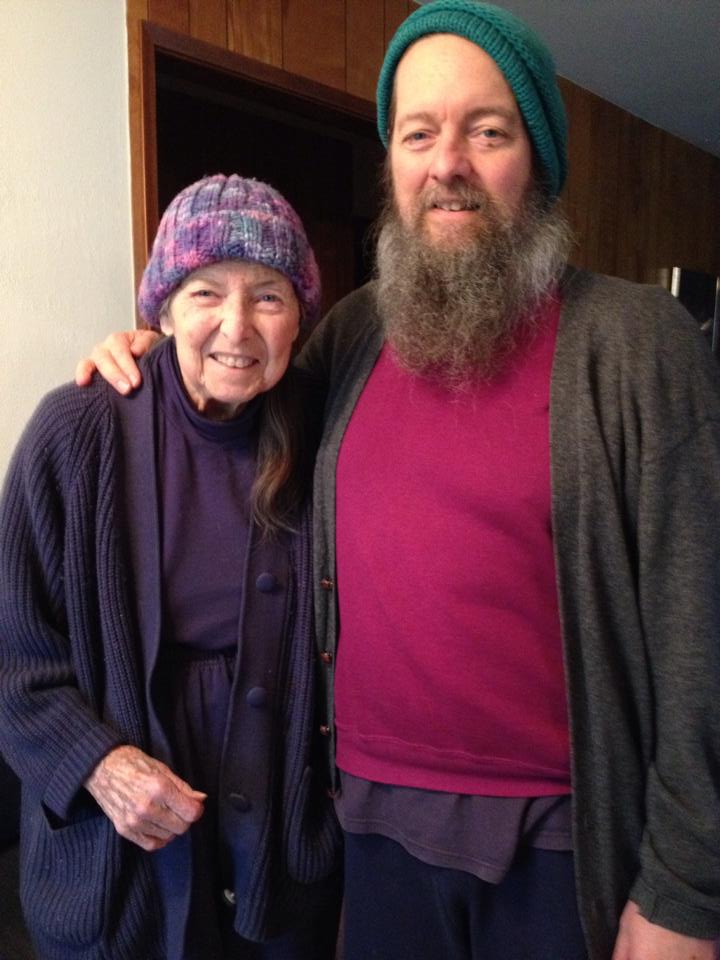 This epic book has been long delayed for years because all of 2015  and 2016 saw me become a full-time caregiver aiding my mother through the final stages of her life to a beautiful passing on 15 July 2016. The process, conjuring big, life-altering changes, had made my return to the full-time writing of this massive tome a gradual affair given that there was a traffic jam of so many other works to be completed; however, there's a hidden blessing in this. I believe this book by being delayed will now slot itself into a far larger time frame than the originally planned bi-annual edition. Indeed I will no longer do bi-annuals. Now you will all get a book that looks down not only AN ENTIRE DECADE but the newest evolution of this book will now also comprise a lifetime of future forecasts using the pivotal 2020s–the crossroads in human history–TO TAKE YOU ALL THROUGH THE NEXT ONE-THOUSAND YEARS OF THE FUTURE! (See the theme list at the end of this introduction.)
And what a decade it will be! If the message of this book is understood and heeded, you might get a future where I can write another decade-covering book for the 2030s.  The pressures of slotting this book slowly back into the schedule of books I have life and time left to write make it impossible to give a solid release date, but hey, if people can forgive RR Martin for his long delays completing his literary version of Game of Thrones (A Song of Ice and Fire), I trust my readers will be patient with me as well. Both Martin and I are overwhelmed with projects. Moreover, my epic effort to capture the potentials of this account of the 2020s, the most important decade in human history to date is a massive prophetic and literary undertaking worth the wait.
For 33 years I've been writing about this decade starting with a BANG! And so it has! And in just the way I foresaw it. We literally crossed the threshold into a world completely changed and now deep in this decade's death and transformatory time, with pandemics, political and economic revolutions afoot, a planetary climate crisis and a looming Sixth Mass Extinction.
The Oracular Muse that guides this book into yet another delay because of these upheavals is even more timely now that the book comes out in Spring 2021 because experiencing the history-altering events of 2020 now gives you a living context of what's next in this decade. Moreover, I can now climax this book with a glimpse into what the 2020s will set up for the 2030s. From the Roaring 2020s, Decade of Destruction and Transformation, we enter the 2030s, Decade of Extinction or Rebirth!
This is going to be one of the most important books I have ever written. It will be a book of around Five Parts, each part going deep into important themes of human crisis and potential transformation in: social, political, religious, economic, and ecological themes. The book's the final part will use the 2020s as a jumping off point in time previewing first the challenges of the 2030 and then using that theme as a jumping off point down the next 1,000 years foretelling the fantastic evolution of major human themes, politics, love, sex death, afterlife sciences, consciousness, extraterrestrial contact, human destiny in space and much more. I am combining in this book what had been a dozen or so smaller book themes as large essays in one volume. Given the coming times, the 2020s is a finishing ground for many of my tasks as a writer. This decade will see a completion of my testament about the future.
In the following, written in December 2019, my essay for New Dawn Magazine already captured many of the things that will define this new decade as "Roaring"–You have already experienced some of this. (Note: illustrations were added on 14 August 2020)
EXCERPT SAMPLE
WHY DO I CALL THE NEW DECADE
THE ROARING 2020s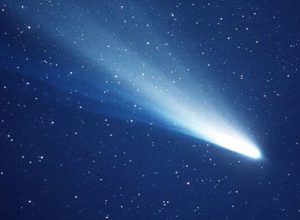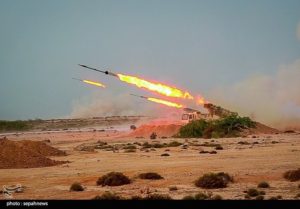 People ask why I call the next decade the "Roaring" 2020s. Now that we are about to enter the new year of 2020, the lift-off year of this most significant, sometimes very cross, crossroad decade in human history, I will explain in as few words as I can the ways this New Year instigates a ten-year roar down a path of destruction and transformation.
One begets the other.
2020 lights a decade's roar of megafires from Australia to Amazon,  Central Africa to Arctic.
2020 roars of superstorms will flood coastlines from the Atlantic, Western Pacific to the Coral Sea. Cyclones will emerge in waters outside the tropics where they're rarely seen and for the first time in eons, lightning will illuminate a melting North Pole.
In 2020 the engines of CO2/Methane sequestration take a large and venting, carbon-footprinted step closer to becoming emitters of same, feeding the new-abnormal climate in ways that you will not directly experience until the end of the 2020s.
Digestion takes that long to manifest. The boil in 2020 of methane across thousands of square miles of Arctic ocean, unzipped from venting continental shelves, will cross an arbitrary line by decade's end. A line drawn by sandy-headed politicians at the Paris Climate Accords.
Global warming will pass a 2-degree Celsius mark in doomsday's thermometer far sooner than politicians in 2020 will imagine. When it happens grain yields will begin collapsing in the 2030s. Only a tenth of the 8.5 billion people expected to witness the dawning of that human auto-suicidal decade may survive.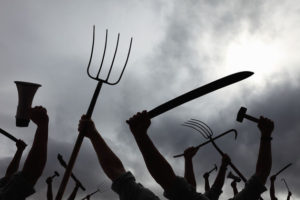 A fuse will be lit under other forces in 2020. The hue and tumult of multitudes cry "Havoc!" and let slip protest and riot onto the streets from Paris to La Paz, from Bogota to Baghdad. Hear them roar over concussion bombs in pitted battles, in rants and cries of fascist "foul!" through the fog of tear gas and rubber-bullet warfare. More approaches than children of Gaza being gunned down by barbwire snipers manning an open air prison of 2 million.
An Apartheid reckoning!
Because drinkable water in Gaza runs out in 2020.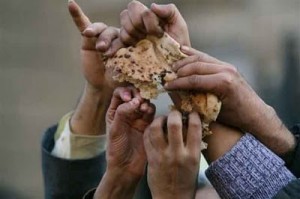 Human voices long silenced will roar: the poor, the indigenous, the overworked and underpaid middle classes. The people of Earth will be heard raging against the new corporate fascist aristocracy, reaching the peak of its power in 2020. They sit on most of the world's hoarded wealth, playing idle games in casino-like stock markets, whilst neglecting a real economy's need for investment, infrastructure and jobs.
Enjoy 2020, you fat-Fiat cats of no-industry in your repeat of palatial Versailles isolation from reality. The lurch towards revolutionaries at the gates is coming. 2020 is your last good year.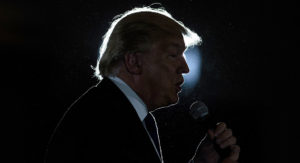 The tide begins turning at the close of 2020 against this new incarnation of Fascism. Like before, it starts when Saturn (ruler of "time-is-up" karma) finishes a transit through an earth sign.
Fascism's last incarnation was unstoppable until May 1942.
Saturn left Taurus.
A few weeks later Japan's Imperial carrier fleet sank at the Battle of Midway. The Nazi juggernaut that had recently entered Stalingrad would later never came out.
The worst violence of World War II was still ahead. Likewise much more upheaval is ahead for us after Saturn's departure from Capricorn at the end of 2020. Yet in both cases, mark the tide against Fascism that turned and will turn again.
Beginning in 2020 a great cycle of ages ends in what the prophet Nostradamus called the "unraveling of the world of people and animals."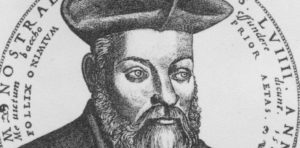 Don't despair.
Don't number yourself among those unconsciously choosing to drop dead from their own fear of change as the Hopi foresaw in the Great Purification by Fire.
Say "yes" to transformation. Find your Noah's Ark of Consciousness. Ride the inner eye of witnessing the coming history-storm. Keep your eternal flame blissfully shining through the dark decade coming. Celebrate and live this fact: only when human existence itself is in doubt are enough people ready to transform themselves and save their future.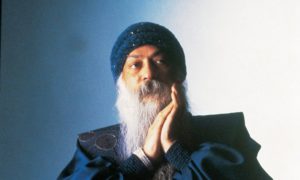 In the mid-1980s my teacher Osho foresaw our 21st-century crisis, saying, "The new man is an absolute necessity. The old is dead or is dying…cannot survive long… And if we cannot produce a new human being, then humanity will disappear from the Earth.
"I am hoping against hope—but I still hope that the danger of global death will be the shock which awakens humanity. If man survives after this [20th] century] it will be a new man and new humanity."
John Hogue
(Hogueprophecy.com)
25 November 2019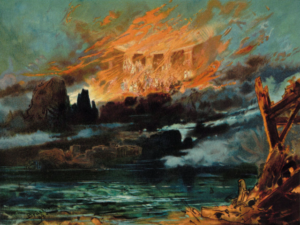 The 2020s will either be our last decade as a species, or find us learning the lessons a civilization needs to learn that makes its future beyond this point possible of being exploiters to guardians of a habitable planet. Rather than die out from our own abuse and stupidity, we get through the 2020s and we just might continue into the next evolutionary stage that most planetary civilizations never achieve. We may as a human race delve deeper into the next epochal journey into inner consciousness and love as well as explore outer space.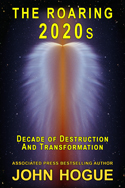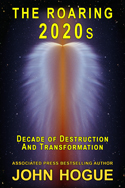 Thus the symbol of this book cover of angel wings made of tails of comets, the heavenly portents. Whether this apparition is a portent of the Angel of collective human death or perpetual, even intergalactic human life, will be decided by all of our individual-to-collective actions in the 2020s.
Get the Expanded Edition, Donate by Email:
When this book is released, it will appear in all forms, eBook, printed book and audio. But first it will be issued to readers that have helped HogueProphecy thrive. To get the special, illustrated and expanded donor's edition give  $12.50 or a little more,  and when it's at last completed I will send you a PDF attachment of this expanded edition in return using the email address you sent with your PayPal donation.
Not on the list yet? Please join. Just click on that link and it will take you through to my PayPal Page. Put 2020s in the memo line or send me an email at hoguebulletin@hogueprophecy.com with 2020s in the subject line. You will be immediately added to the list of recipients and notified when the PDF is ready.
Downloads will begin in the order I receive them over the last several years.  The date to be announced beforehand on all my media pages and the HogueProphecy Bulletin.
You can Donate by Snail Mail too:
Send your email address along with a US check, US bank draft or US money order of $12.50 or a little more, payable to "John Hogue," to the following address.
John Hogue
P.O. Box 666
Langley, WA 98260
Please print out your email address using a printer to ensure it is legible.
Thank you for supporting HogueProphecy with your donation.
I'm so excited to at last see light at the end of this long tunnel getting this epic book finished for all of you!
Over the many months to come I will be sending bulletins here about the process and share brief overviews of the themes of the book. Love to you all!
John Hogue
PS–IMPORTANT NOTE TO ALL DONORS OF THIS BOOK UNDER ITS DIFFERENT TITLES:
To all donors waiting starting back at the beginning of the list in the latter half of 2015. This is the final title of the book you may have donated for under the titles Predictions 2016-2017, then Predictions 2018-2019 and Predictions 2019: and into the Roaring 2020s. You have already donated and are on my list to receive this book under its final title: The Roaring 2020s: Decade of Destruction and Transformation Through the Next 1,000 Years.
A SIGNIFICANT NEW EVOLUTION OF THIS BOOK
WILL NOW USE THE ROARING 2020s
AS HUMANITY'S JUMP OFF POINT
DOWN ONE-THOUSAND YEARS OF POTENTIAL FUTURE HISTORY
EVOLVING THE FOLLOWING CONCEPTS IN ESSAYS
FROM THE TWENTY-TWENTIES  ONE THOUSAND YEARS
TO THE THIRTY-TWENTIES
I will set down down these far-reaching visions first and then complete the work prepared for the 2020s. You will see the titles of these essays change as I hone down their concepts. Basically this book has FINALLY become what it was intended to be. For now the structure is still evolving but it will basically be two books inside one. It is going to be a nice-sized book around 450 to 600 pages.
– P A R T   O N E –
The 2020s: Decade of Destruction and Transformation
The first half of the book will look at themes and trends of the Roaring 2020s up to the threshold of the 2030s, the Decade of Extinction or Rebirth. Here are some but a few of the essays and themes I'm working out. for PART ONE:
THE LAST FOURTH TURNING'S
TOTALITARIANISM RETURNS
AS GLOBAL CORPORATE FASCISM
BEYOND THE FIAT ECONOMY
THE ABRAHAM CONSPIRACY:
How the Middle East will Either Resolve or Destroy itself by Going Back to the Beginning of Trouble's Origins.
I'm seeing now that 2020s is a book that will dwell on important themes that undergo upheaval and change, death and transformation as their potentials. This is one of them. THE CORE ISSUE THAT BINDS THE MIDDLE EAST IN A FATE OF ARMAGEDDON if this idea of Abraham is not at last exposed and transcended.
THE ZOMBIE PROPHECIES:
Before Consciousness can Blossom first Encounter Why we have a Deep and Sincere Fascination with Zombie Movies and Myths–They Are Real!—I'll Show Them To You. You'll be Very Surprised to Find who they Are, the MIND PLAGUE that infected them and the Antidote that you are ever, each moment, capable of Using to be Zombie Immune.
REACT-ILLUSIONS AND THE ONLY TRUE REVOLUTION WAITING IN THE SECOND HALF OF THE ROARING 2020s:
Humanity has never experienced a True Revolution. All so-called Revolutions have been reactions usually replacing one tyranny with a new tyranny. The reason being that People misunderstand that POWER DOES NOT CORRUPT and only illuminates what society has programmed into us to identify with as a false mask of Personality. What is needed now for human survival down the next 20 years is a Conscious Revolution
THE GREAT UNRAVELING
OF THE WORLD OF PEOPLE AND ANIMALS
THE ARSENAL OF ECOLOGY:
And the Humanitarian Industrial Complex
8 APRIL 2024: THE GREATEST AMERICAN ECLIPSE:
Draws an X Over the Longest Shadow Cast by the Great American Eclipse of August 21 2017 over the center of the United States
THE BOOK OF "WRONG" REVELATION:
A Psychotic Prophecy Misread for 2,000 Years has Found the Decade that can Fulfill It's Projected patently False Nightmares
– P A R T   T W O –
Closing the Circle of Eternal Return
Starting with the 2030s will make a great leap down the far distant future with essays that will not do what most of these books do, tell you how terrible our near future times are and how wonderful the golden age will be BUT THEY NEVER TELL YOU STEP-BY-STEP HOW WE GET THERE FROM HERE! This book will build for you, in the following essay themes of core topics of interest for our human future, A BRIDGE TO AN UTOPIAN FUTURE, step by step.
THE 2030s DECADE OF EXTINCTION OR REBIRTH
(And after that shocker, the book uses the 2020s as a diving board into the distant Future:)
THE FUTURE BEYOND DEMOCRACY:
We Jump Forward off the Temporal Diving Board Called the Roaring 2020s to Glimpse the Evolution of Human Politics Down 1,000 Years!
A FUTURE FOR HUMANITY BEYOND WAR AND PACIFISM
THE END OF ECONNED-NOMICS OF ALL SHADES CAPITALIST AND TOTALITARIAN
THERE IS A BRIGHT AND ENLIGHTENED FUTURE WAITING FOR THOSE WHO BLISSFULLY TRANSCEND:
The Family and the Centralization of Society to Live in a World of Personal Sovereignty
THERE IS A FUTURE WHERE WE BOLDLY GO WITH CELEBRATION:
Beyond Sex
Beyond Aging
Beyond Love
and
Beyond Religions
BEYOND DEATH AND REINCARNATION
THIS MOMENT
DOWN THE NEXT 1,000 YEARS:
The Evolution of an Ancient-Future Subjective Science
And how One Graduates from the School of Karma
And the Wheel of Life
HUMANITY'S PERPETUAL HISTORY:
It is Waiting Beyond Time and the Exploration of Space