GET YOUR COPY OF THIS THOUGHT-PROVOKING NEW eBOOK, NOW AVAILABLE AT AMAZON.
Click on the cover and read a free sample: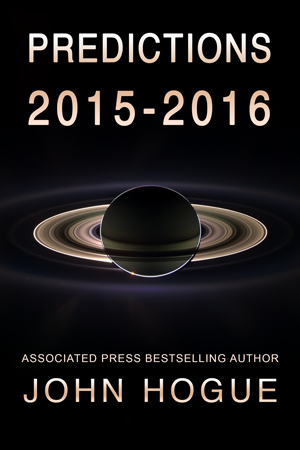 Also Available on KOBO and NOOK readers.
THE ADVANCE DONATION CAMPAIGN IS OVER
However…
THE EXPANDED "FIRE AND ICE PROPHECIES" EDITION
CAN BE YOURS FOR A DONATION OF $12.50 or a little more.

Click on the link. It will take you to my Paypal donation page. Write "2015" in the memo box, or put same in an email to me at hoguebulletin@hogueprophecy.com. You'll receive a personal download from me within a day's time of a version of this epic book of prophecies with an extra chapter of nearly 8,000 words about which destiny Climate Change will take us: to a future of "FIRE" (runaway global warming) or a future of "ICE" (global warming triggering an Ice Age). Find out what the prophets, both ancient and modern, say.
TABLE OF CONTENTS
INTRODUCTION
2015: The Year of Last Chances
CHAPTER ONE
The Stars War
The Empire Strikes Out
The Pluto-Uranus Square—Last Call
Saturn Summer
Two more Blood Moons, plus Eclipses and Quakes
The End of the American Century
CHAPTER TWO
The "Under-Government" Coup
Black Saturn, Dark Money
Advance the Corporate Creeps of Command Politics
The Human Race will get the SHAFTA
CHAPTER THREE
Go Shock and Awe-thorities
From Centralizing the Many to The One in Manyness Manifested
A Ballot Boycott to shut the Two-Party Cartel Down
Still Knocked up by the Lesser of Two Pregnancies
May the Blockchain be Unbroken
CHAPTER FOUR
All the President's Memes
A Meditation on Medina
The Cult of Personality Politics
US Congress running on American Idle
Who will be the next President? The Choice is Theirs
American Intifada
CHAPTER FIVE
The Tower of Babel-ing Brussels
A EuroPeon version of Genesis, Chapter 11:4—9
Secession Ascendant
Nostradamus, ISIS and "Those of Babel"
CHAPTER SIX
Forecasts for Regions and Nations
Key Elections around the World
Greece-ing the Wheels of a EU Breakup
Kashmir and the Line of "un-Control"
In Egypt, al-Sisi "Si" or "No"?
Building Blocs, Building BRICS
New Space Races
The "Under-Government" is in your Underwear!
Going, Going, Af-gone-estan
Narendra Modi's Operandi for India
Nostradamus and Blood Plague Pandemic Predictions
Australia 2015-2016: Hey Abbaaaaaat!!!
CHAPTER SEVEN
China in the Year of Getting our Goat
Knock on the Green Wood Ungulate
The Russian Bears the Dragon
A little Lanoline to soften toughening Stances
CHAPTER EIGHT
Fiat You! World Economics in 2015-2016
Quantitative Weaseling
Economic Axis Shift East
The Dollar: When Printing Nothing, IOU Nothing—Soon!
The Future of Richness
CHAPTER NINE
The Cold War Report: 2015-2016
Attention Deficit Diplomacy
NATO's National Socializing of Kiev
World War Fiat
Full-Spectrum Dumb
Towards a Ukrainian Missile Crisis
CHAPTER TEN
The Future of Vladimir Putin
Siberian Mountain Forest Murmurs
Seeking Balance between Despotism and Mob-ocracy
CHAPTER ELEVEN
Ice-SIS Cold Armageddon
In the Middle East
FrankenStrategic Monster
The National Socializing of Israel
The White Man's Burden: the White Man's Borders
The Bozo Doctrine
Hell on ISIS between Iraq and a Hard Place
From Arab Spring to Jihadi Summer to…
Change Ayatollahs and Dance
Does Peace with Iran have a Chance?
CHAPTER TWELVE
Armagettin' Globally Warmed
Kali Yuga Koka Kola
Divide and Ruin: A Climate Change Crisis in Leadership
Scorched Earth
Hot Ocean Deluge
People Power and Capitalistic Disobedience
EPILOGUE
"Iskra" The Spark!
A Spark setting off Upheavals
Ignite the Flint of Genius
The Iskra of the Inescapable
APPENDIX CHAPTER
FOR THE DONORS EDITION ONLY
The Fire and Ice Prophecies
A New Ice Age Cometh?
Visions of Ice Age, the Meltdown
From Rapists to Guardians of the Earth
The Special Expanded Edition
THE FIRE AND ICE PROPHECIES

With your donation of $12.50 or a little more to help Hogueprophecy continue its important work, you have reserved a pdf download copy of this expanded edition with an extra chapter called "The Prophecies of Fire and Ice."
Over thirty years I have gathered predictions, both ancient and modern, sharing two collective visions about the future of Climate Change. One group forecasts a new and hot Dark Age of runaway global warming. Another collective vision predicts global warming is but a precursor to a new Ice Age.
Who will be right? Moreover, is there any sign that we can cancel out both Ages of Fire and Ice and restore harmony to Earth's climate?
Please advance donate before Christmas and find out the answer.
 Here's how the donors special limited edition can be yours:
Option 1: Donate $12.50 or a little more on line to this link taking you to the PayPal page:
http://www.hogueprophecy.com/support-hogueprophecy/
Be sure to put 2015 in the Paypal memo line or send me an email to hoguebulletin@hogueprophecy.com with just 2015 and/or FIRE AND ICE in the subject line. No need to write anything further.
Downloads Begin the Weekend of  25 April 2015.
You will receive your PDF eBook in the chronological order I receive your donations, attached to the email to which you donated for it.
IMPORTANT REMINDER: please use Gmail for best results and please do not use the following email servers at all: Mindspring, Earthlink, Century Link, Cox Net, Charter, MSN, Telus, Roadrunner, Internet Explorer, or Peoplepc.
Option 2: Donate by Snail Mail:
Send your email address along with a US check, US bank draft or US money order payable to "John Hogue" to the following address.
John Hogue
P.O. Box 666
Langley, WA 98260
Please print out your email address using a printer to ensure it is legible.
Thanks for your support of Hogueprophecy!