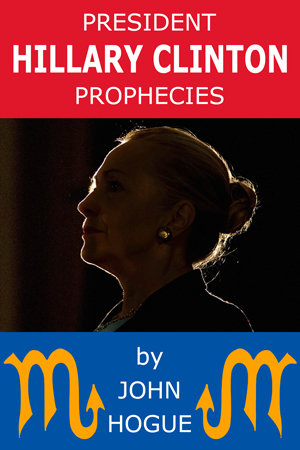 If there is still any doubt who I'm predicting will be the next US president I'm working on a book of astrological and other forecasts  for the candidate who will become your 45th president of the United States.
I've been predicting Hillary Clinton would become the first woman US president starting all the way back in November 2000. The last time she had what appeared to be a certain presidential run for 2008, I wrote a year and eight months earlier that there was one weak link in the chain of events  leading to the fulfillment of that destiny. In the Article Hillary Clinton's Albatross, I said Clinton would have to apologize for her vote in favor of giving President Bush the power to invade Iraq  or she'd lose support of the anti-war voters in what I foresaw would be a very close primary fight against Barack Obama and possibly lose.
That's what indeed happened, yet I still held firm that I saw "president" in her future and an important position, like Vice President, (read also The Tale of Two October Votes). She didn't win VP but as Election Day approached,  I still corresponded to readers and expressed the feeling on radio appearances that a significant role was waiting for her in Obama's cabinet. Then Obama won the election he announced a great surprise to all, including Clinton. Obama chose her to be his Secretary of State for the first term.
In the next eight years, I consistently forecast her intention to run in 2016 and that it was her best and last chance to seize her destiny. Still, in every apparently assured destiny there is a chance it can be overturned, and that chance is contained in one name, spelled: T-R-U-M-P.
I have said and written since August 2016 that Donald Trump is the only opposition candidate–including the Socialist playing Democrat, Senator Bernie Sanders–who threatens her last hurrah with history. Will she win?
She will be your next President of the United States. I am so confident of this that I'm changing and widening the scope of this book, changing its title from Hillary Clinton: Astrological Predictions to President Hillary Clinton Prophecies. This book will introduce you to Hillary Clinton's birth chart, her positive and negative potential aspects, and we will match her up with the birth chart of the United States to see if this "political marrage" has a future or will end in divorce. This book will delve deep into what a Hillary Clinton presidency might be like for the next four years, and explore how she may not finish her first term in office. Here's a draft of the Table of Contents:

INTRODUCTION
A Prophetic Vindication
CHAPTER ONE
The Tale of Two Birth Charts
CHAPTER TWO
Astrological Predictions
For Saturn's Scorpio Child
CHAPTER THREE
January 20, 2017:
The Birth of a Presidency
CHAPTER FOUR
Mother of a Nation, or John Wayne
Playing G.W. Bush in Drag?
CHAPTER FIVE
McClinthyism:
McCarthyism's Return
CHAPTER SIX
From a Cuban
To a Clinton Missile Crisis
CHAPTER SEVEN
Billhary Clinton
And the Nixon Karmic Echo
CHAPTER EIGHT
Will a President's Term be cut Short
By Scandal and a Health Crisis?
If you want to receive a personal email notice when this book becomes available at Amazon, please email me by clicking on Contact Me. Just put one word in the subject line: HILLARY. For those of you who put yourself on the list to get the first version of the book, you are automatically getting the new and expanded edition. 
Thank you,
John Hogue
(Updated report: 24 September 2016)