Click on the cover and read a free sample chapter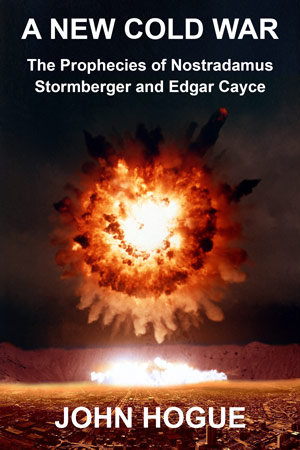 Now Available on AMAZON KINDLE
Also Available on:
KINDLE (Canada) * KINDLE (UK) * KINDLE (Australia)
KINDLE (Japan) * KINDLE (Germany) * KINDLE (France)
KINDLE (Italy) * KINDLE (India)
KINDLE (Mexico) * KINDLE (Brazil)
LIKE FACEBOOK PAGE * Join Free Newsletter
BOOK DESCRIPTION
With open eyes will the nations of the Earth enter into these catastrophes. (Mattias Stormberger, circa 1770)
Prophets, such as Nostradamus, Stormberger, and others introduced in this new and topical book by world-renowned prophecy scholar John Hogue, accurately dated, detailed and forecast the coming of the First, the Second, and finally a Third World War. They never foresaw the last cold war ending in Armageddon; yet, they do predict a new cold war between America and Russia in our future would merely be a short prelude to the threat of a civilization-ending nuclear war that no one saw coming.
The current and gathering crisis pitting the United States and the European Union against the Russian Federation over Ukraine may have rewound the doomsday clock and started it ticking out dangerous days ahead of escalating, cold war brinksmanship. World leaders, unmindful of the consequences, are carelessly ramping up the tension while the media, especially in the West, are misinforming the public, becoming echo chambers for governments fighting an information war where the first casualty is truth.
The prophets of world wars see what could come of this. With open eyes the people of the world will "walk into these great catastrophes," so they say. The danger begins at a time when America and Russia display eagles as their national totems.
That time is today.
In Washington, the capital of the land of the bald eagle, neoconservatives have married their hegemonic ambitions with liberal exceptionalists in the Obama administration. They intend to bring back into business a cold war military industrial complex that could perpetuate a nuclear standoff with Vladimir Putin and his oligarchs in power in Moscow under the restored banner of the double-headed eagle of the Czars as Russia's national totem.
A cold war mindset has returned. Shortly afterwards, perhaps less than a few years from now, the prophets warn that America and Russia will go to war and two-thirds of the human race could be destroyed in one terrible night.
A NEW COLD WAR: The Prophecies of Nostradamus, Stormberger and Edgar Cayce, sounds a prophetic alarm while there's still time to stop the Third World War from happening. Explore these prophecies. Let them open your eyes wide with an awareness that can yet save humanity from walking, with eyes wide shut, into its greatest catastrophe.
America and Russia have another destiny. Even now, they can become friends bringing peace on Earth. America's best-known twentieth-century prophet, Edgar Cayce (d. 1945), saw that hopeful future where Russia would evolve beyond communism and become the "Hope of the World" with the help and support of American friendship, not American arrogance and hypocrisy. Russia needs America to renew its constitutional tenets and lead by example.
This book of prophecy aims to help inform readers of the foreseen dangers as well as the solutions so that they can make a reality that promised Golden Age of Peace.
I have known John Hogue for fifteen years. If John Hogue's predictions weren't so uncannily accurate, they'd be uncannily terrifying. Or—no, wait a minute. Uh-oh, they're both. Better give his book a careful read. Real careful.
—Whitley Strieber, author of "Communion" and "The Coming Global Superstorm" with Art Bell
A master storyteller!
—J.R. Rain, author of "Moon Dance", "The Body Departed" and "Silent Echo"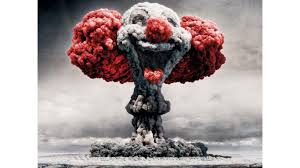 TABLE OF CONTENTS
INTRODUCTION:
With Open Eyes Blind
CHAPTER 1
Cold War One
And the Brothers of the North Prophecies
CHAPTER 2
The Hegemonic Manifesto
And The Cold War on Terrorism that Failed
CHAPTER 3
The Great NeoCON
Of a Second Cold War
CHAPTER 4
Out of Cold War Two
Into World War Three
CHAPTER 5
Stop the Countdown to Armageddon
I want to get off!
CHAPTER 6
Edgar Cayce
And the Hope of the World