LIKE FACEBOOK PAGE * Join Free Newsletter
RSS Links * Hogue's Author Page
Support HogueProphecy
GET AN ONLINE READING WITH JOHN HOGUE
Email him at hoguebulletin@hogueprophecy.com
Put "Hogue Reading" in Subject line
He'll send you times, prices and information.
DATELINE: 20 April 2020
Is Comet Atlas the Mabus Comet
And/or the Blue Kachina Star of Hopi Prophecy?
The Chinese Proverb euphemistically says, "May you live in interesting times."
Not easy, mind you, or even good. But "interesting." Like what we're living in now.
I publish these ten articles 111-days into the 3,649 days of what I long anticipated would be the very interesting times of the "Roaring" 2020s. Just 111 days in with 3,546 days left to experience things truly roaring.
We've crammed a whole year of history-altering events in these 111 days already. The US and Iran nearly went into a direct, full-scale war that could have dragged Iran's allies Russia and China into a potential Third World War not once but twice. In 111 days we have seen the Coronavirus Pandemic suddenly spread across the entire world, shutting down the global economy, plunging the world down into a "Greater" Recession than 2008 with numbers of unemployment not seen since the Great Depression of the 1930s but exponentially transcending them!
That's just a few things to name in the last 111 days back to New Year's Day. There is much more, like Britain officially setting into motion its Brexit from the EU, with the sorry performance of Brussels helping EU members battle the plague that most likely set the stage for the European Union undergoing a breakup, starting as early as this first year of the Roaring 2020s.
With such age-ending and beginning reckonings, it seems high time that some significant portent of things to come—and things to "undone" —should glimmer in the first night skies of this new decade.
Like where is Halley's Comet's transit through Anglo-Saxon English skies marking the invasion of the Norman forces of William the Conqueror and the defeat and death of  the Anglo-Saxons King Harold II at Hastings in 1066?
Where's our Great Comet of 1812 moment?
It foretold the catastrophic beginning of the end of Napoleon Bonaparte's First French Empire, lighting the way to military disaster in his invasion of Imperial Russia.
Where is "our" portent of doom to what we've known and the stellar sign of bloom of the new we might not yet anticipate for our "interesting times"?
We just might have the first cosmic candidate.
A lonely traveler, a dirty snowball that hasn't seen a sweep around our sun in 4,800 years!
Talk about being a herald of great change after a long historical epoch!
A sign in the sky, a comet not seen until 48 centuries later in 2020 that possibly might glow bright enough that no naked eye can deny it.
Astronomers discovered its approach through the outer frontiers of stellar space on 29 December 2019—just a few days before the 2020s began. It's astronomical label is Comet C/2019 Y4, better known as Comet ATLAS after the reflecting telescope on Mt. Mauna Loa in Hawaii took its first picture for the Asteroid Terrestrial impact Last Alert System (ATLAS).
That makes a Greek Mythological figure of great strength its name.
In brief, Atlas was a Titan, a shepherd and brother to Menoetius. They sided with the Titans waging war with the Olympians to see who would become the gang of gods ruling the world.
The Titans lost the war. Menoetius and many of them were exiled to Taratus, but Zeus, the chief Olympian God had an especially hard punishment in store for Atlas, to hold up the sky upon his shoulders forever.
Coming down from this myth to earth, scientific advancements of the Renaissance would depict in statues the way most of us imagine Atlas modeled after the famous Renaissance sculpture by Farnese. He's shouldering the orb of Gaia, planet Earth and not the celestial spheres of the heavens as depicted in Ancient Greek times. Pumping Earth rather than celestial spheres might have inspired a new, and Renaissance, classical myth rendering Atlas the embodiment of what we call our terrestrial map books today, an Atlas.
Comet Atlas' magnitude upon discovery was an unimpressively dim muscle man's 19.6 magnitude of celestially-luminous strength, but it grew four times in magnitude during its transit through Ursa Major in March.
In April Atlas passes from the Big Bear through a Big Camel (the Constellation of Camelopardalis) Then it travels through Perseus in May where there is astronomical hope that it will muscle up by 15 through 31 May 2020 to a brightness second only to the Planet Venus.
This greenish-yellow comet with a distinct halo could by Parhelion (closest approach to the sun) on 23 May, turning blue from solar-heated winds exciting sodium atoms in its expanding tail.
I am lucky this comet watching time. So is anyone living in the Northern Hemisphere who will have a front row seat from 50 to 55 degrees north latitude. By 22 April this blob might look like a greenish blue oblong to the naked eye like Andromeda Galaxy does in a telescope. Those of us in northern latitudes will be looking for it at the end of our long summer days following the sunset north, northwest, looking for it descending each night to the northern horizon in the faint blue afterglow of astronomical twilight from 23-27 May. You readers Downunder in the Southern Hemisphere get a week's worth of Atlas gazing starting on 28 May.
Now then…
Comets can be finnicky. They can show much promise and disappoint. However, if this comet plays up what astronomers hope for, it would bring to bear a prophetic dimension that draws in the world's most well-known prophet, Nostradamus, and possibly, if the sodium atoms are alight towards the closest pass to the Sun, a possible portent of the Great Purification by Fire foreseen for this world by the Hopi Prophets of Southwestern America.
First, Nostradamus:
2 Q62
Mabus puis toƒt alors mourra, viendra,
De gens & beƒtes vne horrible defaite:
Puis tout à coup la vengeance on verra,
Cent, main, ƒoif, faim, quand courra la comete.
Mabus very soon then will die, [next] will come,
A horrible undoing of people and animals,
At once one will see vengeance,
One hundred powers, thirst, famine,
when the comet will pass.
The Mabus "Comet" is a portend marking its appearance as the times of the Third and Final Antichrist foreseen by the sixteenth-century French prophet Nostradamus (1503-1566). The prophecy also establishes his advent as a time of a great undoing or unraveling of the world of humans and animals. Given the seer's many prophecies about rising oceans and blazing skies, famines, superstorms and droughts, Nostradamus may frame our times in the 2020s being on the threshold of a climate catastrophe that is already killing animal species, and burning forests at such a rate that scientists are already warning is the onset of the Sixth Mass Extinction suffered in the 4-billion-year history of Planet Earth.
The sign of the comet would blaze over a natural world poised to go to war against human beings as they go to war with each other by means of the catalytic agency of Mabus, the code name for the Third and Final Antichrist foreseen by Nostradamus. The others were Hitler (Hiƒter—Hister) and Napoleon (Napaulon Roy—Kind Napoleon).
As Hogueprophecy has reported to you in article waves so far, the year 2020 has potentially seen the US and Iran go to the brink of war twice with a third confrontation looming. (See articles below). Nostradamus' World War III prophecies pinpoint the Middle East, with Iran, Iraq and Syria mentioned outright, as the flashpoints of regional war that would rapidly drag the nuclear power of America into a direct confrontation with the nuclear powers of Russia and China. Mabus is a main player in all of these catastrophic acts that could send a hundred powers (nations) into a world war.
Mabus is a likely code name for "MBS", the acronym favored by the Western press when reporting on the Crown Prince of Saudi Arabia, Muhammad bin Salman, the de facto leader of Saudi Arabia behind the throne of his feeble and stroke-ridden father King Salman.
In my last wave of articles in March I pointed to MBS as the cause of the current oil barrel price war between Russia and America that I foresaw has triggered the Greater Recession on 9 March when stocks began their rapid and historic plunges, aided by the accelerant of a  COVID-19 panic putting the global the economy into a coma.
MBS has worked hard to drag the US in for a fight with Iran, a war MBS greatly desires. He's almost succeeded several times already. So as a futurist, I look long and carefully at how bright this Comet Atlas may get as a sign that the Titan Atlas may, metaphorically at least, be about to give up his burden and let the skies fall on this current auto-suicidal human civilization, killing animal and man through global warming, wars and a string of natural and manmade (man-mad) pestilences that they will unleash.
Nostradamus has support from the prophecies of the Hopi Native Americans prophets of Southwestern America. The Elders passed this secret oral tradition down a 1,000 years until signs were right to divulged their visions to the world by the late 1940s. They foretell a Great Purification by Fire for the world. (Please read my book, The Essential Hopi Prophecies)
The signs after 1,000 years that it was time, presaged a great war of the false white brothers who came and conquered Turtle Island (the shape of North America's outline from space looks to them like a turtle). The powers in the war were "the Red" (Russia), the Swastika (Hitler's Germany) and "the Sun" (the rising sun flag of Imperial Japan).
The whites in Turtle Island would fashion a "Gourd of Ashes", a weapon of terrible power that would make the land sterile where it was lit (radiation). This happened in 1945 with the Trinity blast of the first atomic bomb test not far from Hopi lands in neighboring New Mexico.
By the way, a Hopi gourd has a straight, thin neck and a bulbous bottom. Turn it on its neck and it looks like an atomic mushroom cloud.
The Hopi myths explain that the world was destroyed four times before the current age. Like many other ancient myths, the last destruction of humanity, leaving only a few to replenish the world was by a great flood. Possibly the reason why myths around the world harbor that vision stems from actual flooding events at the end of the last Ice Age because of melting ice that raised sea levels 340 feet.
Just like today, the vast majority of prehistoric humans lived near the water and suffered their habitats being moved to keep pace with the flood. There is evidence mostly overlooked and suppressed by traditional archaeology of city street grids off the coast of Ahmedabad, India, that hint of a city on a coastline 341 feet below our current sea level that moved up to 174 feet below around the time of two significant ice meltdown inundations. This might mean these cities existed around 10,000 BC and 7,000 BC!
The next death and rebirth of the earth in Hopi Prophecy will begin when a blue star or blue comet called the Kachina Star appears in our skies. Like previous cycles of destruction and birth, it happens when humans grow unconscious and wicked, exploiting the earth, losing their spiritual connection with nature and becoming mere consumers and materialist. Their religions are holy in idle words only, and not deeds of love or understanding.
In the Great Purification coming by "Fire," the current humanity that cannot face change and would rather destroy itself instead because of its unconscious fear of change, will be destroyed by fires of global warming and war. Those who are ready to embrace change, and alight inside their souls, NOW—these will awaken in their hearts a New Humanity that will survive this death of the old to make a new "Fifth" World, a better world.
So say the Hopi.
DATELINE: 20 April 2020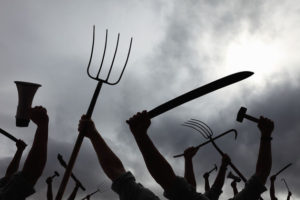 Mark the Year 2020 in Astrology
As the Last Year Nothing can Stop
The Hegemony of Corporate Interests
With Saturn's dip into Aquarius this Year
Giving a "Hint" of the Pitchforks to Come
The partisan-polarized mainstream media may dwell on how great or terrible a job President Trump is doing to fight the contagion of the Coronavirus Pandemic, but Hogueprophecy will give you the bigger picture. It will note the popular plague of controversies and noise, but help you step back into a world of context and from that deeper perspective, mark more accurately what is coming in the future. We in future-tense will look at the intense days ahead and beyond this month's shortages of supply and leadership.
First some astrological foundations to lay before you.
In previous waves of articles delivered in December, January, February and March my divination dwelled upon the year 2020 as the last year astrologically favorable to the new aristocracy of our times, the princes and kings of multi-national corporations having harmonious political and economic fortune in a year that is dominated by outer planets Jupiter, Saturn, Uranus and Pluto transiting the (business/corporate friendly) signs of Capricorn and Taurus.
In the realm of Judicial Astrology, the reading of the destiny of nations, political parties, social movements and the life cycles of nations and economies, these sometimes get harmonious help from trine (120-degree) aspects even if what they are doing is inhumane. Trines smiled in a similar way upon Adolf Hitler in earth signs in the early 1930s as they do corporate fascism today, giving their impartial blessing to his rise to dictatorship.
We are in a similar time where the morally bankrupt are in economic boom mode. Until the Coronavirus shut down the global economy, we heard little else from Wall Street to President Trump about how big a booming economy America had. I have been writing for a while now about this "boom" being a bubble, growing larger and larger. Like all bubbles, the membrane stretching thin will bedazzle some with its rainbows just before it pops into what I forecast will be a "Greater Recession."
I marked 9 March 2020 as the beginning of this greater recession than experienced in 2008. The real crash came in the oil market on that day, with Russia and Saudi Arabia having a fallout over curtailing oil production, as the agreed-to OPEC deadline had come. Yet MBS (MaBuS), the Saudi Crown Prince and de facto leader of Saudi Arabia, Muhammad bin Salman, the best candidate for Nostradamus' third and final Antichrist that I've ever tracked since I began my hunt of candidates for Antichrist in 1983, had other reasons for resuming runaway production of oil in this glutted oil market. Even if he's selling at oil barrel prices driven down into the teens of dollars.
Bankruptcy of the Saudi Kingdom is looming.
MBS is desperate to get some cash flow, even a pittance, in his coffers. It is not just that he wanted to stick the US and drive the Fracking Industry into insolvency, thus cutting US oil independence, giving Saudi oil leverage back to be the chief pumper of US petrodollars, not America alone. Black gold has been the crude, oily standard that has floated the value of the US dollar as the world's reserve currency since 1971. That's when Nixon was forced to float the dollar away from any rational anchor to a gold standard for our current fake fiat-funny-money system.
MBS has nightmares, something wicked this way coming that is blacker than oil. He watches his back against the men in black. The men who would see his kingdom collapse insolvent in a civil war of 3,000 princes hastening his bloody end, along with Saudi Arabia becoming the new place where black-flagged Islamic State would truly take hold, in the deserts where its Wahhabist Islamic heresy was born.
But I get ahead of myself.
Back to the transiting planets of Jupiter in Capricorn, Uranus in Taurus and Saturn. The latter had until recently been passing years in Capricorn. On 23 March 2020, and right when the US economy and much of the world economy went into lockdown, that coincided with Saturn temporarily abandoning Capricorn's corporately friendly sign to test the cosmic waters of what will soon be its three-plus years transit until March 2023 through the sign of pitchforks and rebellion.
Saturn will only penetrate just one degree of that future—our future!—before withdrawing back into Capricorn on 2 July 2020, remaining there for most of the rest of this year. Yet that one-degree testing of tomorrow's future waters will be enough to change everything.
Not the outrages of the power elites against the people, however. As before so it is in the near future that the elites never recognize or expect a popular rebellion until the cold and ire-full iron pitchfork point is hooking them by their snobbish noses led to execution walls or guillotines.
I foresee the wealth inequality deepening between 23 March and 2 July. The money pledged in the US to restart the economy is showing EVERY SIGN that the oligarchic elites have not learned their lessons again, from the Great Recession of 2008 to this Greater Recession of 2020. The money already promised to 300,000 smaller businesses has already been exhausted. Most of the trillions of dollars of Monopoly Game money being printed and digitalized into being to stimulate the economy will go to major corporations like the airlines industry, automobile industries, cruise ships, and others that CAN file for bankruptcy and rely on their massive profits already saved to refinance and get out of trouble like has happened before.
But you, small businessman. YOU! Gig laborer. You can't rely on savings that keep you living from paycheck to paycheck. And a measly, LATE, $1,200 bucks isn't going to wash the clothes and pay the water bill.
The needs of the least in need will get most of the money they don't need!
The needs of the most in need?
You get thrown a bone, thrown a promise of $10,000 per small business loan that…
Oops! They meant up to $10,000.
Oh, sorry, we didn't make that clear did we?
Umm, by the way, few will get up to $10,000. Better deflate your hoped help down to $2-to-$3,000!
In short, a joke stimulus and loan. And guess what, the money pledged has already been paid out. Most of you will get nothing.
The great danger I foresee in the coming months is the heart of this American economy stops beating because the stimulus is going to the big businesses and financial markets that acted irresponsibly AND SHOULD FAIL! Big business mediocrity was bailed out by Obama and this bipartisan BS bill of stimulae is your Senate, House and Executive Branch, your Jackassocratic and Dumbopublican representatives saving and enriching the wealthy who don't need that help, while they neglect 99 percent of the American people in the real, nourishing econ-mommy of things—not financial, casino, speculators, people who do not create anything real, and get filthy rich doing it. They get most of the money while you, small business and you, gig employee, and all you workers and laborers in white and blue collar REAL economies?
You will get screwed by the elites.
However…
The ultimate outrage has been scenes on television early this week, such as one I saw flit by on my TV screen early last week on the appropriately named Mad Money with Jim Kramer show on CNBC. I saw in the background on one of the wall screens of the set a news flash declaring the stock market gain being the best rise in the marked "since 1938!" That marked the beginning of the end of the Great Depression.
In the same TV image of celebration in the background, in the foreground, in the same frame, Cramer blissfully unaware of what rolled by on the ticker tape, was an announcement that another six million people filed for unemployment on the same day of this huge stock market gain.
That's HALF of all the 12 unemployed of the last Great Depression out of work in a single day!
We ended this week with TWENTY MILLION unemployment filings!
We are heading towards an astronomical THIRTY PERCENT unemployment before April is filed away in history's cooked books.
I saw news helicopter footage the other day of a huge parking lot in San Antonio, Texas. They were filming the city's foodbank set up as a drive-thru pickup of boxed food aid. Ten thousand cars! Ten thousand families! Passed through that waiting line in one day. One MILLION pounds of food was delivered to them in one day!
People are running out of money to EAT.
Before Saturn's little testing of the waters of rebellion is over by 2 July 2020, we will all feel is was a prelude to revolutionary times.
When people can't eat in 1789, they have nothing to lose and start the French Revolution. We may very well see the beginning of revolutionary discontent by end of April, and more so into May when the money sent to those who really need it to keep the heart of the US economy beating, have financial heart palpitations that sends people, against social distancing, into the streets in protest, demanding their fair share of help.
I contend that this Saturnine foray for a few months into Aquarius will plant the collective seeds of discontent of a human race against its aristocratic handlers that have only deepened with an economic shutdown taking down millions of businesses and cast into the streets millions more seeking unemployment and even food.
The full flowering of rebellion will wait until the end of the year, in the winter, during the return of coronavirus discontent. There may even be a stock market rally before that, perhaps the last fiat rally in the autumn but like before the financially FAKE economy rising to near 30,000 points is pointless to real workers making things and serving real people, both servers and served out of work.
When Saturn finally leaves its comfy corporate home in Capricorn on 18 December 2020, it becomes the first and significant planetary deserter of the corporate influencing cause. When that happens, the rally will pass and the Greater Recession will deepen. The signs will already be there by mid-summer 2020 when there will be a slow lurching forward of a very damaged, global economy of the ungainfully employed.
The spring of 2021 could become the spring of rebellion around the world about it.
Uranus in Taurus in 2021 remains with Pluto in Capricorn but with Saturn now in a revolutionary mood. It will not be there in Capricorn any longer to keep a handle on Uranus transiting Taurus in its hammer-fall in the sign of personal finance hitting a billion people across the Earth as the Greater Recession descends from 2021 into a Greater Depression by no later than 2022. Perhaps then, the people of the world will awaken to the swindle of the fiat economic system and rebel.
The beleaguered establishment will have to find a solution that they have often found in Recession-Depressions past: a war to distract domestic rebellion—even suppress it. You don't have to look that far into the future for this distraction, as one of the next articles below will explain after I first share with you, in this time of pandemics the story of Nostradamus the plague doctor who later became a prophet.
DATELINE: 20 April 2020
Nostradamus Fighting the Bubonic Plague in 1546:
And His Personal Reflections as one of History's
Most Famous Plague Doctors
I am currently working on an unplanned-for but necessary book, my fiftieth. It is about the world's most famous Plague Doctor and Prophet, Michel de Nostredame (AKA Nostradamus) commenting on a future theme that he happened to be an expert in fighting: plague epidemics. What follows is a preview pass through Chapter One of that book, entitled Tales from a Plague Doctor, and His Most Famous Medical Prophecy… Become a 12-month Subscriber right now and get full access to this Feature Chapter Preview of my New Book and all 10 articles.
Donate $60 or a little more to HogueProphecy.com and you will receive full access to 12 months of my reports and articles sent directly to you.
These usually come in waves of 5-to-10 articles once or twice a month, on average 105 to 112 articles a year! As soon as they're published, I will manually send a fully-illustrated PDF attached to the email address you used at PayPal. Put 12-months in the PayPal Memo line.
Want to choose my monthly articles waves one at a time? Here's what you do. Donate $5.00 or a little more, to sustain Hogueprophecy. Put April One in the PayPal memo line. I will manually send a fully-illustrated PDF attached to the email address you used at PayPal.
PREVIEW THE EXTRA ARTICLES
YOU WILL RECEIVE
DATELINE: 20 April 2020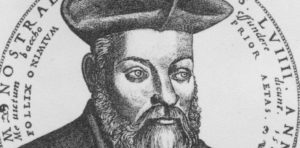 Resume Reading:
Nostradamus Fighting the Bubonic Plague in 1546:
And His Personal Reflections as one of History's
Most Famous Plague Doctors
[Nostradamus Writes in 1552:] In the year 1546, I was summoned by the city, Aix-en-Provence, to rescue the citizens from the plague—and this was in a contract from the city magistrates and the government. A great and horrendous outbreak of the plague had begun there at the end of May and would eventually last a full nine months.
The people died in a way one has never experienced before, while they were eating and drinking. The cemeteries were so flooded with corpses that you could not find any consecrated ground to bury the dead. On the second day of the infection, a majority of the plague stricken people became crazy and started running amok…
Any contact with the sick was so dangerous that everybody who only approached them at five paces was stricken with the plague. More of them had the blisters of the carbons on their breasts and on their back and on their legs. The skin around the pustules was black as coal… Get 12 Months Now for $60 or a little more.
DATELINE: 20 April 2020
The US Coronavirus War on Iran:
Weaponizing Sanctions, the US prepares
For a Proxy War with Iran in in Iraq
Well now. Here it comes, rapidly, perhaps even before Mayday, 1 May 2020. Here comes the THIRD time in 2020 that President Trump takes brinksmanship to a new and dangerous level in the crowded Strait of Hormuz, the place Nostradamus named outright by its sixteenth-century name (Carmania) as the flashpoint for a full-scale American-Iranian war… Get 12 Months Now for $60 or a little more.
DATELINE: 20 April 2020
A Plague upon Our Freedoms in the Pandemic Emergency:
A Necessity Now, Turning into Tyrannies Later?
After the wave of disease there will come the infection of a plague of national emergencies, martial law, sequestering, quarantining, social distancing, no gathering of protest against government abuses. The US Congress' response to this plague was to enact a bailout that will toss a bone to the real working people of the real economy. At the same moment, it richly bails out the corporations, the moguls the lords and ladies of the banking industry that, like 2008, expect the public to pay them out of crisis in this stealth socialist state of so-called free market capitalism that no longer follows its most basic tenant—RISK… Get 12 Months Now for $60 or a little more.
DATELINE: 20 April 2020
—April 2020—
The Month of Shortages
As Foreseen
The current pandemic will not be a "once in a lifetime" stress test of global supersystems. The 2020s and 2030s will experience more such stress tests of supersystems like banking, governing, transport, communication, power grids, Internet, potable water collection and distribution and perhaps the most vulnerable supersystem of all, the one that rings loud and often in the prophecies about our near future from Nostradamus and other seers: food production and delivery… Get 12 Months Now for $60 or a little more.
DATELINE: 20 April 2020
A Most Important Executive
And Congressional Decision:
Save American Lives
Or an American Way of Life?
This article first appeared as an exclusive for my HogueProphecy Bulletin members on 23 March 2020. It was an early broaching of an issue that, at the time I wrote it, pushed a lot of buttons. Two weeks rolled by as slow as two months later with the US economy in a coma and upwards of 20 million people losing their jobs. Now this topic taboo is openly being discussed… Get 12 Months Now for $60 or a little more.
DATELINE: 20 April 2020
April's Peak of American Plague
And how it may be Changing
The Destiny of this President
An Addendum. Something I wrote a half month ago about Trump's future in all this. On 29 March, Nick, a longtime reader and subscriber to HogueProphecy full access articles, sent me an email the day President Trump dropped his idea of opening up the economy out of shut down by the Monday after Easter on April 20.
Hi, it looks like Trump just extended the closures until end of April, your worst fears are coming true… Get 12 Months Now for $60 or a little more.
DATELINE: 20 April 2020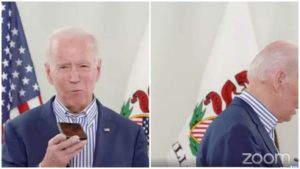 Bernie Sanders is Out of the Race leaving A Crisis in Leadership:
Joe Biden in His Basement goes Alzheimer's AWOL
At the Peak of the Coronavirus US Infestation
Who May Replace Him in July 2020?
Some Surprising Scenarios
Written Over Four Months Ago
Though I admire Bernie and his followers I have managed to see something they cannot comprehend that makes it all too easy not once but twice to predict with certitude back in 2015, a year before the last presidential election cycle began, and again in 2019 before the current 2020 run, that Bernie Sanders can never be elected president of the United States.
In brief I've stipulated for years two politicly fatal flaws in this dream… Get 12 Months Now for $60 or a little more.
DATELINE: 20 April 2020
AND FINALLY
Of Sampling the New Age Movement
Of Elephants passing through Barking Dogs
And Gold Nuggets in Dung Balls
Let's take another metaphor, a favorite of the great Zen Master Bodhidharma. He must have seen this first-hand when growing up a prince in South India over 1,500 years ago. An elephant stately sauntering through a village attracted a multitude of village dogs, barking uproariously, making moves to bite his huge tree-like legs.
The elephant is vast in his undisturbed reality and state. He just strolls along down the dirt road. Finally the mob of dogs, exhausted with their demonstration get fed up with the unperturbed elephant giving them nothing in return, like they weren't even there. So at peace is he inside. The village mutts quadrupedal off in all directions, disgusted with the serene pachyderm… Get 12 Months Now for $60 or a little more.
PROPHECY NEWS STREAMS
The Alien Brain (Ancient Aliens) Review by John Hogue
Nostradamus and the Notre-Dame Fire Conspiracy
The Democrat Trump Trap
The Man who Saw Tomorrow – Hosted by Orson Welles
The Greatest Nostradamus Project Yet Undertaken
The Mercury Retrograde Report
The Quickening Prophecy News
Tanker incidents, war with Iran soon?
Christ Plus ISIS Equals ChrISISt
Nostradamus and the Notre Dame Fire
Hogue's Vision Shift on Climate Change—PART ONE and TWO
Rachel Maddow goes Howard Beale Bonkers
No Collusion Mueller Report
India-Pakistan Border Crisis
Enlightenment of Humanity, the Only Hope
Is MBS Mabus?
Pulling the Plug on RT equals pulling Plug on Comcast
Why Democrat and not Democratic?
Israel threateneing US First Amendment Rights
Trump Chinese Trade War
History Channel Last Pope Special—Hogue Review
Tsunami of Articles: Hurricane Florence, Deep State Yemen update, Alex Jones.
The Heat is On! The Record-Breaking Summer of 2018
Future of Roe v. Wade
The Mainstream Media Forgotten War Crime: Yemen
Anthony Bourdain Suicide Part One
Trumps Immigration Family Splitting Crackdown
The post Singapore Summit Future
The Future after the North Korean Summit
An 'Abdu'l-Bahá' Ispired Peace Deal for Iran
Nostradamus' Stone in the Tree Prophecy
Gaza Border Protests
US Embassy in Israel Astrology Prediction
Trump blinds Climate Scientists
Malasian Flight 270 Solved?
Gulfstream slows down
Osho's Prophecy for 2020
Trump Abandons Iran Deal
Trump Trade Wars
Trump Missile Strike
Novichok conspiracies
New Cold War is On
New Year 2018 Forecasts
The "Messiah" Articles
RT America Branded Foreign Agent-Forecasts from THE WATCH thread-Part One and Two
Friday the Thirteenth Forecasts-Part One and Two
Trends to Tune Into-Part One and Two
Climate Intensifies-Part One and Two
Premonition Meter on the Rise-Part One and Two
On the Razor's Edge of War-Part One and Two
Future History Quickening-Part One and Two
Trump-Clinton Polls Tighten
Brexit
J Krishnamurti: Identification-Source of all violence
Athabasca Oil Sands will burn up the Sky
"O Can the Duh," Canada about my O Canada Parody
I predict: Donald Trump Republican Nominee
I predict: Hillary Clinton Democratic Nominee
Christopher Hitchens, part-time Intellectual Fraud
Is Trump Mabus
Future of the Paris Climate Change Agreement
Bernie Sanders Prediction
Iran Deal Implemented
The Paris Terror Attacks
The Russians in Syria
The Immigrant Invasion of Europe
Bernie Sanders ascending
Hillary Clinton fades and rebounds
Donald Trump Predictions
The Third Greek Bailout
The Grexit Referendum
ACA Here to stay?
ISIS Dirty Bomb
Hillary Clinton for President?
Dolores Cannon Fodder
Dog's Anus Jesus
Nostradamus World War Two Prophecies
British Election Prediction Success
The Future of Israel under new Netanyahu Government
Iran Deal on nuclear program
The Grexit
ISIS Refugee Threat
No snow no show for Iditarod?
Minsk Agreement
Ukrainian Civil War Ceasefire
Inhofe's Fake Russian Photos
Cuba Embargo lifted?
The Interview and North Korean Sony Incident
Freedom from the Grid
The Russians are Coming
Arctic Blast
Iranian Nuclear talks
Ferguson and the American Intifada
One Bird Flu over the Global Human's Nest?
EU Parliamentary Elections 2014
New Libyan Civil War
Ukrainian Election Equals Maidan Three Revolution
Putin Pivot to China
Net Neutrality Threatened—what you can do!
Antarctic Ice Shelf Meltdown
New Cold War
Obama Mabus?
Russia Victory Day Massacre
Mariupol Massacre
Odessa Massacre
Donetsk Referendum
Hogue on Coast to Coast AM sounds WWIII Alarm
The Grand Cross Crisis
RT (Russia Today) the Facts and Western Fantasies
Ukrainian Fascists Rule Kiev
Right Sector, the Ukrainian Neo-Nazi terror
Svoboda (Ukrainian National Socialist Party)
Shostakovich, Music for our times of Stormy History
Obamacare Prophecy Fulfilled
John Kerry Skull and Bones Ukraine
The Coming Revolution of Decentralization
The Crimea Breakaway
Ukraine Crisis
Nostradamus Mabus Antichrist Prophecies
Four Blood Moons and Israel
Nostradamus Predicted US Defeat in Iraq
Fukushima Prophecies
Hopi Prophecies of the Great Purification
Nostradamus Syrian Prophecy
Sylvia Browne Remembered
The Future of Politics
US Debt Ceiling Crisis Ended by Women
Pope Francis Prophecies
Ayn Rand Prophecies