Friends, I have known first-hand how wild the weather can get in Massachusetts when I was a member of the summer stock Highfield Theater troop in the latter half of the 1970s. As a Southern Californian my meteorological experiences were pretty much limited to sunny days and mild nights in the south end beaches of Los Angeles County, before the climate started getting unstable from 1979 onward, where we only had two seasons a year: smog and fog.
When I flew into Boston in June 1977, I had the first experience of sticky, thickly humid air. I claimed a shared bedroom in the theater commune outside of Falmouth and it was not long before my spare shoes placed under the bed sprouted a grass-like mold. The dry air of Southern Cal ever stuffing my nose to smells was dilated to sample the rich aromas of earth and grass, the funk of New England's dry rot in white washed buildings on the campus. I experienced for the first time vanilla skies where swam languorously a scarlet sun in humid vapors that hid behind their yellow sheen the prowling, sun eating "sharks" of thunderstorms.
I recall the back yard of the theater. Promising young talent in costume wandered the meadows and woods warming up their voices, reciting their lines as they bestirred fire flies while milky heads of great anvil clouds catching fading light in soft twilight glowered. I heard our director say something no Californian director ever uttered in his final notes before showtime: "…Oh, and one more thing, everybody. We are under a severe thunderstorm watch, so be prepared to stop the show and take cover at a moments notice."
I have thespian artist friends originally hailing from Massachusetts who moved into my little island village in the Pacific Northwest setting up shop where they sell, among many other fantastic fantasy gear, fairy wings for kids of all ages and you are greeted by a fast talking puppet who likes nacho chips if you've got'em. He is rapidly becoming — I predict — the next Pew Wee Herman, albeit rendered in leather.
Pew Wee's Playhouse?
Move over for Nymbol's Secret Island.
I am told Nymbol is a boggart with a knack for mischief. In his stage show he inhabits a magical island with phantasmagorical creatures, pirates, and perhaps sometime in the future, an opera singing Nostradamus expert known as the Flying Dutchman, Captain VanderHogue-ing. Click on Nymbol. (His site is still under construction but check out the page "Nymbol's Friends" from the little gremlin-like boggart schmoosing the Fairy World Fair crowd last year in Oregon. Or type in "Nymbol" on You Tube.)
But I digress…
The other day I met Bill Cass, Nymbol's alter ego and puppet master, coming out of the local pizzeria in the wake of his ebullient daughters — a couple of bright eyed, and joyous Alices from Wonderland (who I would like to believe are real magical faeries masquerading as humans for now).
In the first pause of a happy, laugh filled meeting, Bill and I started talking about a rare New England tornado outbreak that spawned at least nine twisters reported hitting several towns and cities in western and central Massachusetts on Wednesday afternoon, 1 June 2011. An EF3 tornado plowed through the heart of Springfield, a major metropolitan area. It toppled brick buildings killing four, injuring over 200 and damages cost an estimated $100.
Bill reflected that growing up in New England one always got a little wary of the weather in May and June for their extremely violent thunderstorms. Large hailstone showers that can kill a person nearly claimed his van once. For my part I dodged nearly being skewered by two lightning strikes in my season at Highfield Theater and this Californian from copacetic weather patterns was reminded often that "Here on the East Coast, we have real weather."
Nevertheless, this tornado outbreak across New England was different. Even severe thunderstorm seasoned Massachusetts people have not seen such a tornado roller coaster run them over in a lifetime.
This is the way of the year 2011, where even the seasoned survivors of heavy weather in the US Midwestern Tornado Alley to New England or those who "weather" earthquakes, like the people of Japan, have been taken to unknown new levels of "terror"-tory.
Watch the You Tube footage of the superquake and tsunami in Japan in March and the response of people used to hard quaking and waves clearly passes beyond what they can emotionally absorb. Then comes April. The tornado-seasoned citizens of St Louis beheld their international airport taken down by a twister. The twister veteran US southerners are run through by two deadly tornado outbreaks bushwhacking Tennessee, Mississippi, Alabama, Georgia, and the Carolinas, pressing a windy buzz saw to large metro areas such as Birmingham, Tuscaloosa and flattening a dozen little towns like Kira's Harvest, Alabama. Then, in a year visiting one major catastrophe a month, May's Mississippi River deluge mounted flood levels not seen in living human memory unless you are in your 90s or 100s. Then came the Missouri tornado outbreak that destroyed Joplin, soon to make the 2011 tornado season the deadliest in 61 years!
Oh, and let us not forget in this year of 2011, the year of "never before seen" natural disasters, the day Springfield was bombed out by an EF3 tornado also marks the official beginning of the 2011 Hurricane Season, of which I have warned in prophecies for 2011. It will be another uptick in climate tipping points not seen in living and ever forgetful human memory since the season of Hurricane Katrina in 2005. The South and Southeastern states of the US are already enduring 2011's spring-turned-suddenly-dog-day-summer-triple-digit-overheated — the precursor to a powerful hurricane season as ocean temperatures in Gulf of Mexico and the Gulf Stream steam up into the bathwater warm 80s in Fahrenheit waiting to become a watery breakfast of cyclonic champion storms rolling off Africa and the Caribbean.
The storm intensity not before seen paralleling triple-digit heat waves brings to mind the message from my oracle about natural disasters in 2011 that put the chill of dire future in the consequence of human induced global warming:
I wrote on 1 November 2009, "I foresee 2010 as the year things get hot and stay hot in the climate, almost as if this is a temperature tsunami rolling across the Earth from northern to southern hemispheres of season change.
"…It will be reported in 2011 that a fault line in climate sustainability was breached in 2010 and thrust the global average of temperatures across the planet to suddenly lift upward. [This will cause a] climate changing tidal wave of natural disasters, the most serious of which will visit South and East Asia and Southern California."
… Indeed that trend will continue in 2011. The human race will descend into deeper denial of climate change just when the first signs of catastrophe draw near. I predicted for 2010, that people around the world would talk and write about it as the year of uniquely weird, unpredictable and violent weather never before seen.
They will forget about 2010 when faced with even worse climate violence in 2011. They will simply blink at the new norm.
A sustainable future of this globally interconnected civilization can ill afford short term, "grab and burn what resources you can" policies promoted by government and business leadership. Yet, human misbehavior to the Earth will increase rather than start correcting itself in 2011. This prevailing attitude of "I need a job now, solve climate change later" will see some of you lose your homes to tornadoes, your businesses to hurricane and typhoon, your crops to fire storms. Some of you reading this now will have lost your lives in the year 2011 as a direct result of following along this perpetuation of denial.
Predictions for 2011 (published on 21 December 2010)
Final Chapter: Alarm Bells Sound the Unsustainable
World industries increase fossil fuel emissions heating the atmosphere by 5 percent in 2010 and the trend is for more in 2011. Now the corporate mainstream media begins mollycoddling people with a new bromide, rather than cite the global climate emergency, they now indoctrinate the boobs watching the tube that this is "the new normal" just as my oracle had foreseen.
Now we pass the narrative of preposterous weather violence in a pre-apocalyptical year back to Kira's diary written in the aftermath of the tornado outbreak in Alabama in late April that destroyed her town of Harvest Alabama. You can read part one of her diary by clicking on Tornado Outbreak.
Four days after her last entry, Kira filed this on 9 May 2011:
John, I have one more update for you.
I took the car out yesterday for the first time since the tornadoes and just have to tell you what I saw. You are the only one that will care, I think, because it seems to me that most people are … not interested? Which boggles my mind. I think maybe it's just that people are still in shock. No one is talking about this anymore really, and after seeing the EF5 damage first hand, I have the feeling that the damage might just be so unfathomable that people CAN'T talk about it.
Anyhow, here is what I saw. Pictures cannot possibly show you what is out there, there's just too much of it.
I went to a development called "Anderson Hills" that was hit head on. It looks like Godzilla stormed in and took huge chunks out of the houses with a massive claw hand. Or like the houses had been hit with exploding mortars. Half the house will be pristine, and the other half will look like it was just dumped out of the blender… and these are HUGE brick houses. ALL the trees were twisted and snapped. Some houses were stripped down to the studs. It looked like the bricks were just melting off the houses in places. I saw a massive tree overturned… with roots and all… and then realized there was no hole in the ground where it was laying, so the tree must have landed there after being pulled up somewhere else. It seems the wind damage (not only including the tornado but also the straight winds) was about 10 miles across. Just a guess.
The more I type the more I realize that words don't suffice. We are hit by tornadoes every year. Its normal. But we have never seen anything like this. This was not just a tornado, it was a monster. And, by the way, my sister says a neighbor of hers snapped a photo of the tornado, and it shows three funnels. I have not searched online to see if this has been officially reported, but have heard it again from other neighbors since, as well. Schools in Cullman are just now opening back up, and Redstone Arsenal is also just now opening for military business.
Kira
The following day (10 May) Kira wrote:
I wonder if people will be going to therapy about these weather changes. In all seriousness, my psyche feels bruised, for lack of a better description. I don't understand why people are not talking about this on Facebook, especially since a third of the folks on my "friends" list are from here. I wonder if it's because they don't want to talk about unpleasant things? Actually, I recently read that the people closest to a disaster won't talk about it, and will also not believe that it will happen again, and will not prepare for that eventuality. The people just OUTSIDE this disaster zone, though, will take things much more seriously. The further the folks are from the epicenter, the more seriously they will take the warning of another disaster. I think I read that in a science magazine at the doctor's office.
My neighbor from across the street came over yesterday. She and her husband have already moved to Georgia (months back), and are trying to sell their house. She was still in shock, "bruised", talking a mile-a-minute about the devastation, and about the fact that her friends house disappeared in the wind.
I had to double check, "Were you here during the tornado?" No, she said, she wasn't. But she was talking like she was here and had experienced it. My brain is too tired to figure out why she seemed to have lived through what we here did. Interesting, nonetheless. She also said she was very disappointed that many people that she knows here left the area the day after the storm. As if they could not handle living without electricity, TV, showers, stoves. She viewed this disaster as an opportunity to "pull it together", but that people instead high-tailed it out of here. Again, my brain is too tired to know what I think about this, but it is interesting to hear and remember.
The changes we decided to make after the storm have partially stuck so far. Computer games for the kids are gone. My son seems much happier. I think they made him lonely, even though he loved them. We do not watch TV when the whole family is home anymore (but I must admit I love to watch the Nostradamus stuff and Ghost Adventures from time to time when I am alone).
[My husband] Mark has quit all computer games as well, and has also quit his ritual of going to relax in front of the computer after work. He seems much happier now that he is no longer stuck in this rut. Maybe new behaviors will be born for us because of these shocking events. I will watch to see. And I am glad I can relate these observations to you, because I know you can hear me.
Thanks so much for your support, John, you don't know how much I appreciate it.
Kira
We will resume the third and final installment of Kira's diary perhaps in the next blog. I sense, however, another quickening of events converging on prophecy in the coming week that might require its delay as other issues, such as the violence in Syria, the civil war about to erupt in Yemen, the growing activity early in the 2011 Hurricane season and the next dip in the global economy may keep my keyboard busy. If you are on my bulletin list, you will be the first to know what is posted. You can join my free list by signing up here.
John Hogue
(05 June 2010)
If you want to see what happens after the death of Usama bin Laden game changes the search for Nostradamus' Antichrist read about that future written several years before it happens by clicking on Mabus.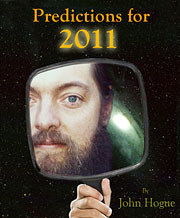 I am soon to be a guest on Whitely Strieber's Dreamland posted sometime around the beginning of July, which is the halfway point in my predictions for the year. You don't need to wait until July to have someone hold my feet over the fire. You can do it right now by reading my e-book Predictions for 2011, which can be sent to you by the speed of light.
Read my Predictions for 2012: