© John Hogue, 1998. HarperSanFrancisco, 240 pages; 20.5 x 13.5 cm (5 5/16 x 8 in) Paperback
Condition: USED. After purchasing this item will be shipped to you at the address in your account.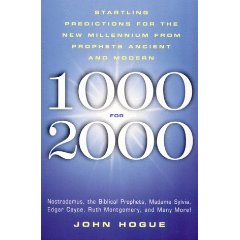 1000 for 2000
Startling Predictions for the New Millennium from Prophets Ancient and Modern
$24.00
The Prophets: Do They Know Something You Don't?
What lies in store for the world as the next millennium approaches? Will it be fire, famine, a world in chaos–or world peace, the eradication of hunger and disease, the coming of the fabled "Age of Aquarius" promising a paradise on earth?
Will the new millennium see Doomsday, Bloomsday, or Buffoon's Day?
Prophecies–are they the crazed musings of lunatics and madmen, or grim portents of doom from the lips of seers whose vision pierces the shadowy veil of time itself? Renowned prophecy expert John Hogue has collected a thousand such predictions for the days to come, as all humanity sits poised on the brink of a new millennium. Are we headed for Eden…or Armageddon?
History's best-known and most influential prophets–including Nostradamus, Edgar Cayce, Gurdjieff, Krishnamurti, Ruth Montgomery, and the biblical prophets–will fascinate, mystify, and terrify you with their visions. An absorbing guide to what is in store for this and future generations, 1000 for 2000 tells us the fate of humankind–from the impending World War III and the Apocalypse caused by the stresses of overpopulation and ecological breakdown to global peace and the dawning of a bright new scientific and spiritual age of a new humanity.
TABLE OF CONTENTS
INTRODUCTION: DOOMSDAY? BLOOMSDAY? OR BUFFOONS' DAY?
A Note on the Prophet's quotes and bylines
AN OVERVIEW OF THE NEW MILLENNIUM
Opening Prophecies: Doomsday and Bloomsday Foreseen
Four Horsemen of the Apocalypse
The Traditional Version of the Four Horsemen for the Old Millennium
An Updated Version of the Horsemen and Women for the New Millennium
ECOLOGICAL DISASTER
Overpopulation
Global Famine
Global Warming: The Atmosphere Heats Up
Global Warming: Hot House Hurricanes
The Great Global Drought
The Oceans Will Rise Because of Global warming
A New Ice Age
EARTH CHANGES
General Changes
Earthquakes
Volcanic Eruptions
Rediscovery of the Lost Continent of Atlantis
POLE SHIFT
Prelude to the Axis Shift
The Earth Turns Over
Geography in the Post-Mongomerian World
DEEP IMPACT FROM OUTER SPACE
Dating the Event: Is It in the Near Future?
A Mountain Falls from the Sky
Safe Areas
PLAGUES
The Seven Plagues of the 21st Century
The First Plague: A Blood Pestilence (AIDS? Ebola?)
The Second Plague: The Ocean Pestilence
The Third Plague: The Radiation Pestilence in Fresh Waters
The Fourth Plague: The Ozone Hole Pestilence
The Fifth Plague: Depression, Hopelessness
The Sixth Plague: The Pestilence of False Prophets
The Seventh Plague: Human Evil
Y2K AND OTHER FORMS OF SUPERSYSTEM COLLAPSE
Y2K is a Warning of Greater Supersystem challenges to Come
The Coming Collapse of Fossil Fuel Reserves
A Collapse of Fresh Water and Food Sustainability.
Too Many People, Not enough Jobs and Resources
Supersystem Breakdown Causes the Next World War
World War from a Lack of Drinking Water
World War from Hunger
ARMAGEDDON
Warfare in the Future
The Third World's War in the 2020s
The Brothers of the North (America and Russia)
Political Alliances for World War III
Acts of Terrorism trigger the War
Their Target? Israel! their Goal? A Second Holocaust!
Submarines in the Mediterranean Sea Attack the European Union
A Fleet in the Persian Gulf Melted and Sunk?
The 27-Year War of the Third Antichrist (1999-2026)
The Balkanization of the World
Alternative World War III: The War Against Human Stupidity
IS THE WORLD REALLY GOING TO END?
Signs in the Sky
Saviors of the World Coming Out of the Clouds
Buddha's Advent as "Maitreya"
Earth's Trial by Messianic Fire
Final Warnings Before the End of the World
The Hopi Final Warnings
St. Xavier's Body Lies a Molding in the Grave
Three Final Warnings Before the End of England
St. Columbcille's Final Warnings For Ireland
The Kali Yuga (the Dark Age of Iron and Chaos)
The Last Warning: A Plea to Stop Abusing the Earth, or Else
Dating the End of the World
Describing the End of the World from a Cosmic Source
Judgment Day Prophecies
The Doomsday Body Count
Who's Religion will Rule the New Heaven and Earth?
What is Needed to Avoid Doomsday
The Book of Last Chances
SATANS AND SAVIORS
The Antichrist Line-up for the 21st Century
General
Mabus
Alus Sanguinaire (Bloody Alus)
The Beasts of the Prophet Daniel
Daniel's Ten-Horned Beast
The "Beast" of Revelation
The "Lord of Childish Intellect
The American Antichrist
He is Code Named "RAYPOZ"
Pope Antichrist
Messiah Line-up for the 21st Century
Nostradamus' Eight Clues to "The Man from the East"
The Coming of an Impersonal Messiah
The Buddhafield
The Critical Mass of Enlightenment
THE FUTURE OF NATIONS
In General
Russia, The Hope of the World
China: the Next Superpower
THE FUTURE OF AMERICA
Decline and Fall of the American Superpower
America's Next Civil War
America–the Future Cradle of New Religions
THE FUTURE OF POLITICS
The End of Nationalism
Global Government
Beyond Democracy
The Future of the British Royal Family
Presidential Predictions
SCIENCE AND TECHNOLOGY
Inventions
Genetic Engineering
Aging Ends
SOCIAL CHANGE
Social Science in General
The Future of the Rat Race
The New Woman
Fashion
Beyond the Nuclear Family
The Nuclear Family fighting a Nuclear War
The Communal Family
The Darker Side of the Golden "Aquarian" Age
The Coming Death of Past Traditions
A Shift in Consciousness
The End of Today's Mainstream Religions
The Catholic Papacy
Two Popes left to Rule before Judgment Day
Scandals and Schisms to come
The Vatican and Rome is Destroyed by Fires and Floods
The Catholic Apocalypse
Protestant Christian sects
Judaism
Islam
Hinduism
Buddhism
Shamanist and Animist Faiths
THE NEW RELIGIONS
Spiritual Revolution in the 21st Century
Religiousless Religion
The Religious Axis Shift–The Eastern Religions flower in the West
Meditation, the New Religious Science
Objective Science Balanced by Subjective Science
Psychologists Replaced by the Psychology of the Buddhas
Deprogramming People from Being so Predictable
A NEW HUMANITY
Traditionally Anti-Life Humanity
Homo Novus: The New Humanity
A New Heaven and a New Earth
Tula Reborn
THE DISTANT FUTURE
Beyond the 21st Century
What the Future Blesses Today's Culture Will Find Hard-to-Swallow
Euthanasia accepted
The Death of Personal Culture in the Aquarian Age
The End of the Arts as We Know Them
End of Religious Altruism
The End of Natural Birth
The End of Eating
The End of Race
The End of Sex.
The End of Good and Evil
The End of Places of Worship
The End of Star Trekking
Space Exploration and the Final Frontier